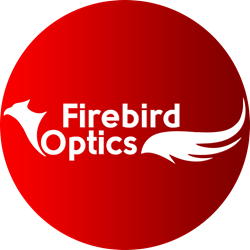 Our customers are the scientific community and they're often working under tight deadlines. It's a disservice to them to not making the purchasing process clear, understandable and straight forward.
NORTHPORT, N.Y. (PRWEB) January 19, 2021
Born during the flames of the Covid-19 pandemic, Firebird Optics is the newest member of the optical window manufacturing community and is fanatically dedicated to building something positive and serving the scientific community in hard times. In a few short months, like the mythological bird we derive our name from, we have risen from the ashes of lockdowns and supply chain chaos and have built something revolutionary for our customers that is turning heads all over the spectroscopy world.
Firebird Optics was founded by Gordon Cinco, a co-founder of FireflySci, which is now the global leader in cuvette and flow cytometry cell manufacturing. Through the course of building and developing FireflySci, Gordon noticed that there was a large underserved market in the optical windows, FTIR optics, laser optics and spectroscopy world. Using that same blueprint that made FireflySci a global name, Gordon is now applying this formula to a new market.
The concept is simple and built from years of watching old, complacent laboratory equipment companies take their customers for granted and giving lazy, substandard customer service. When scientists call many of these companies trying to find the right product, a good majority of the time you get a call center where there is little knowledge or interest in helping you. Other times, if they even get back to you, they will not know the answer to basic questions pertaining to their own products.
For us that is unacceptable and we are obsessed with troubleshooting with our customers to figure out the exact optical window or optic whether it's building a CO2 laser setup, an astronomy experiment or a deep seas optics application. We find our customers' applications fascinating and we are always learning from them. At Firebird, we view each chance to communicate with our customers not as a burdensome task that most other companies outsource elsewhere but rather as a unique opportunity to make ourselves a better company. We have already used this feedback to release a definitive guide for optical windows that is based off extensive customer communication.
Our second advantage is our e-commerce platform at firebirdoptics.com. We figured out a while ago that no one wants to go to a website where they're looking for an optical window and see the dreaded "contact us" tab on the product page instead of the "add to cart" button. Our customers are the scientific community and they're often working under tight deadlines. It's a disservice to them to not making the purchasing process clear, understandable and straight forward. All information that is needed is right there on our website and we're constantly improving based on customer feedback.
This formula is already paying dividends at Firebird Optics as we have been growing rapidly over the past few months while getting great feedback from our customers. We have been honored and privileged to assist the scientific community during the race for a Covid-19 vaccine and, with our ISO9001 quality control, our customers can rest assured that they are receiving the highest quality optical components. Every optical window is made using the highest-grade equipment and thoroughly inspected before shipping.
Our order turnaround is one of the fastest in the industry. When we receive an order for a stock item, we can turn it around and ship it out the door within 1 business day. We are constantly improving our inventory management to make sure that we have what customers need and when they need it.
On top of this, all products manufactured by Firebird Optics are backed by a 100% satisfaction guarantee. If a customer is not happy with the item they've received, we will provide a 100% refund with no questions asked.
For us, this has been a winning strategy. In one short year, many labs and optical engineers have already begun benefitting from our enthusiastic customer service, excellent quality and light speed shipping. We are looking forward to growing with you.
For more information or to place an order come visit us at http://www.firebirdoptics.com or drop us an e-mail at info@firebirdoptics.com.