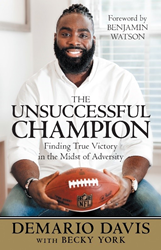 NEW ORLEANS (PRWEB) January 06, 2020
It would be hard for any football fan to believe that New Orleans Saints linebacker Demario Davis once sat behind bars with no idea where his life and future were headed. During that time as he reflected on a violent past filled with drug and alcohol abuse and gangs, Davis made the life-changing decision to put all his energy toward becoming the person he truly wanted to be.
In his new memoir, "The Unsuccessful Champion: Finding True Victory in the Midst of Adversity", Davis paints a picture of a once-wayward young man who came from humble beginnings in a small Mississippi town. He vulnerably describes how growing up impoverished and falling into temptation nearly kept him from discovering and pursuing his calling of playing professional football. However, by persevering through his life challenges and transgressions, Davis eventually went on to play for Arkansas State and then the New York Jets—a victorious beginning to a rewarding NFL career.
Davis' memoir includes a foreword by Benjamin Watson, New England Patriots tight end, who described "The Unsuccessful Champion" as "[a story] that needs to be told because we can all see part of our own story in his…Demario has a life that inspires, encourages, and challenges."
As a vocal man of God who has landed in hot water before for professing his faith on the field, Davis wants readers to know he considers God a key part of what made him turn his life around. "All things are possible if you put God first," Davis asserts. "I will never back down from declaring God as my Savior because I owe my entire life and success to His grace."
In "The Unsuccessful Champion," Davis' story and steadfast belief in God leaps off the pages and will encourage readers to discover their own purpose and harness the champion within themselves.
"The Unsuccessful Champion: Finding True Victory in the Midst of Adversity"
By Demario Davis with Becky York
ISBN: 9781973676034 (softcover); 9781973676041 (hardcover); 9781973676027 (electronic)
Available at the WestBow Online Bookstore, Amazon and Barnes & Noble
About the author
Demario Davis is a linebacker for the New Orleans Saints. A devoted family man, he lives in Nashville, Tennessee with his wife, Tamela, and four beautiful children. In 2018, Davis and his wife founded the nonprofit Devoted Dreamers Foundation to equip the next generation of leaders with the tools to be successful spiritually, mentally and physically. Passionate about sharing his faith on and off the field, Davis hopes his story helps motivates others to chase after their own dreams – no matter the challenges they face.
Contact for interview requests:
LAVIDGE – Phoenix
Kalin Thomas
480-648-7540
kthomas(at)lavidge(dot)com
Contact for book review requests:
LAVIDGE – Phoenix
Courtney Vasquez
480-306-7065
cvasquez(at)lavidge(dot)com
###