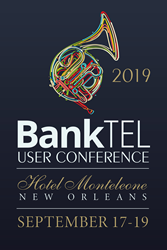 "We've been able to compare best practices not only within the ASCEND module that BankTEL offers, but also in how other institutions are implementing policies, procedures, and tackling FDICIA and SOX compliance." - Allison Vonderheide, Illinois based Midland States Bank
COLUMBUS, Miss. (PRWEB) January 08, 2019
BankTEL CEO Boyce Adams, Jr. and executives at BankTEL Systems, a leading provider of financial accounting solutions, are excited to announce the 2019 edition of its Annual User Conference, which will be held September 17-19, 2019 in New Orleans, Louisiana.
This past September, BankTEL hosted over 200 customers, banking executives and technology leaders from across the country at its annual user education conference at The Guesthouse Hotel at Graceland in Memphis, Tennessee. Over 150 financial institutions from over 40 states participated. The theme was focused on Fraud Prevention Strategies and Cybersecurity.
The BankTEL team is already at work preparing for this year's conference to be held at the historic Hotel Monteleone in New Orleans' French Quarter, where participants will hear from industry professionals and BankTEL team members regarding emerging technologies as the company continues to develop its platform to meet the ever-changing needs of its growing customer base. The conference will also offer breakout sessions on key industry issues such as accounts payable fraud, compliance, cybersecurity and payment automation, as well as in-depth customer panels and user-groups for companies looking to further optimize their operations.
"We look forward to participating again in this year's conference," said Allison Vonderheide, user conference board member from Midland States Bank in Illinois. "BankTEL's annual user education conference offers an opportunity to network with other institutions and learn industry best practices from the market leader. Getting to know individuals at institutions of similar size and make-up is invaluable. We've been able to compare best practices not only within the ASCEND module that BankTEL offers, but also in how other institutions are implementing policies, procedures, and tackling FDICIA and SOX compliance," said Vonderheide.
The 2019 conference will highlight ways that BankTEL's technology can help institutions innovate and stay ahead of the compliance curve. Attendees will also receive a unique view into real-time cybercrime and payment innovation.
"At its core, our user conference is an opportunity for our clients to come together and learn from each other," said Boyce Adams, Jr., BankTEL's president and chief executive officer. "Our goal for these events is to put together topics and content that are directly applicable to our clients. This year will be focused on evolving technologies our clients can leverage to make their financial institution more efficient and position them to better serve their clients."
BankTEL helps financial institutions manage expenses with easy-to-use software solutions that maintain transparency, accountability, and regulatory compliance. BankTEL is the only international software company that focuses solely on accounting solutions for financial institutions, with 20% of the U.S. market share and a 27-year history of serving clients of all sizes.