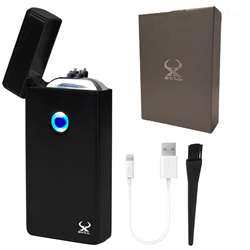 With X BULL, people can say goodbye to the fossil-fueled lighters of the past and welcome this lighter of the future.
IRVINE, Calif. (PRWEB) October 04, 2018
Today SPPARX introduced the X BULL, a patented fuel-less rechargeable plasma lighter, on Kickstarter.
X BULL is an electronic lighter that offers a unique electric elevated arc design that can adapt to any situation at any time, featuring a cross-patterned spark that ensures powerful performance in any environment, along with a high-powered built-in battery that can provide up to 300 sparks on a single charge from a USB port.
"With X BULL, people can say goodbye to the fossil-fueled lighters of the past and welcome this lighter of the future," said SPPARX co-founder Sherry Ringel. "We're excited to introduce the X BULL to the very unique market of crowdfunding consumers, who are known to be the largest group of early-adopters who want the newest technology available."
With X BULL, the user is holding the highest-tech lighter in the world, something we designed with all the features that make it the ultimate fire-making device," she said. "After more than two years of drawings, sketches, 3D printing, soldering, development, and testing, with a focus on reliability, comfort and safety, we came up with the perfect lighter for the future."
X BULL also represents a 'green' lighter that's less toxic for the user.
"Studies have shown that butane gas can be harmful to a person's health, especially for smokers, since the blue flame used a heat source can be toxic," Ringel said. "Over time, butane inhalation can produce a degree of liver damage and more, so using X BULL is much safer for the user…and for the environment overall."
X BULL Features:

Rechargeable
Windproof
Flameless
Long lasting battery (280 mah)
No gas or fluid required
Environmentally-friendly
Cool LED power button
Cross patterned spark
New model with open wide arcs
Powerful and instantaneous dual arcs
Elevated arc design especially built to allow for a powerful and intensity ignition of the lighter
Body casing made of durable, sleek zinc alloy
Up to 300 sparks on a single charge
Safe and easy to use, lights at the click of a button
Blue indicator to protect battery life
Built-in safety function (X BULL can't ignite when the cap is closed)
Featuring a clean, matte finish that won't show fingerprints or smears, X BULL is 7 x 3 x 1 centimeters in size, weighs three ounces and each lighter is packaged in an elegant gift box that also includes a USB cable and a cleaning brush.
"If you or someone you know is in need of a super high-intensity electronic lighter, and the most sophisticated and unique lighter in the market, the X BULL is your answer," Ringel said. "We focused on creating uniquely designed lighters that you wouldn't be ashamed of carrying with you everywhere, a lighter that you can charge up easily and that works regardless of the weather or task at hand."
For more information or to purchase X BULL at a reduced crowdfunding discount of only $21 while supplies last during the campaign, visit the X BULL Campaign Page on Kickstarter.
About SPPARX
SPPARX, based in Orange County, California, was established with a commitment to provide the most technologically-advanced lighters. The company's design team recently introduced X BULL – a powerful, safe and high-powered plasma lighter geared for many uses. The latest brand. For more information about the company's other innovative lighters, visit https://www.spparx.com/.