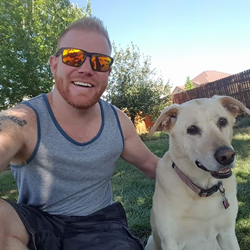 I am looking forward to maintaining the tradition of service that pet families have come to expect from Pet Wants Denver while giving them even more reasons to love Pet Wants in the future ... I'm thrilled to be able to spread that excitement as the company's new owner. -Chris Rome
DENVER (PRWEB) August 25, 2020
After a successful run as a restauranteur, local entrepreneur and pet parent Chris Rome is pleased to announce that he's changing gears and is now the new owner and operator of Pet Wants Denver.
Pet Wants' specially-crafted, private-label pet food formulas are made in small batches with fresh, natural ingredients enriched with vitamins and minerals for a complete and balanced diet in every bite. Pet Wants Denver has multiple blends of dog and cat food formulas, as well as healing salve, calming balm, anti-itch spray, paw wax and more. Pet Wants Denver is a mobile business that offers free, personal delivery throughout the greater Metro Denver area, and the surrounding areas.
Pet Wants Denver originally launched in 2016 under Jess Green. While the company has been successful, Rome is excited about the opportunity to grow the business, expand the delivery area and serve more pets throughout the Denver area.
"I am looking forward to maintaining the tradition of service that pet families have come to expect from Pet Wants Denver while giving them even more reasons to love Pet Wants in the future. Everyone I've talked to about Pet Wants and our products – including my veterinarian friends – are impressed with our products, delivery model and commitment to animals. I'm thrilled to be able to spread that excitement as the company's new owner," Rome said.
Pet Wants has a money-back guarantee on the freshness and quality of the food and the company only sources the best salmon, chicken, lamb, brown rice and other ingredients available. No sugars, no fillers and no animal by-products are added, and Pet Wants never uses corn, wheat, soy or dyes, which makes the food great for animals with allergies.
Rome understands the importance of pet health and the role nutrition plays in their everyday lives and longevity. When his favorite dog passed away suddenly last New Year's Eve, he couldn't help but think about things he might have been able to do differently. As he was researching new opportunities after selling his interest in his restaurant and found Pet Wants, he realized Pet Wants gave him an opportunity to help other pet parents give their pets the healthiest lives possible. When he told his fiancé – who was even more excited about Pet Wants – and then tried samples Pet Wants' food as treats for his dog, Ruckus, and cat, Meeko, it sealed the deal.
"When Avery died, it left a hole in my heart. Pet Wants gives me an opportunity to take what I've learned, combine it with our Pet Wants producers and help other parents enjoy long, healthy years with their beloved animals," Rome said. "When we switched my cat and dog to Pet Wants, we saw an almost immediate difference in their health, coats, energy levels and more. My dog, who was always a slow eater and a slow walker, now devours her food and is leading the way on our walks. She's happy and energetic – and I'm falling in love with her all over again. That's what I want for all pets and pet families."
To learn more about Pet Wants Denver, call (720)504-4146, email CRome@PetWants.com or visit http://www.PetWantsDenver.com.