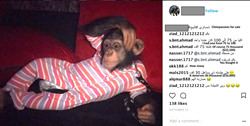 The illegal wildlife trade pits poachers against communities that have discovered the benefits of conservation.
PORTLAND, Ore. (PRWEB) February 17, 2020
The Pan African Sanctuary Alliance (PASA) – the largest alliance of wildlife centers in Africa – has launched its "Not a Pet" petition, demanding that tech giants Facebook and Google stop enabling wildlife crime. "Not a Pet" is part of a three-pronged strategy to fight the illegal wildlife trade that began in January with Action for Chimpanzees (AFC), a program to curtail poaching of western chimpanzees and prevent their impending extinction, and continued with the call to close markets selling bushmeat.
"Wildlife crime is an existential threat to primates in Africa," said Gregg Tully, PASA Executive Director. "And while our members are a crucial bulwark against trafficking, they can't do it alone. We need to hold social media companies accountable for their role in this heinous trade."
Social media companies play a key role in the wildlife crime supply chain. Traffickers share videos and images of monkeys and apes for sale – often as light, fun content that is quickly shared. When buyers signal interest, social media companies enable the next phase of the sale by providing private, encrypted channels like WhatsApp for communication between buyer and seller. This contributes to a trade involving hundreds of thousands of primates every year, according to research – and lives of misery for the unfortunate animals who are the victims of this criminal activity.
Primates are not suitable pets for many reasons. A baby chimp usually spends the first five years of its life nursing. Without this critical contact time, primates fail to pick up natural behaviors, and they may even develop aggressive or fearful behaviors. But the hard part comes when they reach sexual maturity. For smaller monkeys, this occurs around 18 to 24 months of age, while chimps mature around seven years of age. At this point, the animal will likely become aggressive and territorial. In an effort to contain adult primates, owners often resort to locking their "child" up in a tiny cage, filing their teeth or having them removed, forcing them to wear shock collars, or even beating them. When these tactics fail to control their adult primate, owners are forced to give up their pet or risk their safety.
"Internet markets can be much larger than physical markets," said Dan Stiles, head of the Project to End Great Ape Slavery (PEGAS) and a leading researcher tracking wildlife crime. "Thousands of buyers located in many countries can be involved. That's why the Not a Pet petition is so important. We have to bring social pressure to these companies so that they have an incentive to enforce their policies or develop stronger ones."
Fast Facts:

There are fewer than 300,000 chimps left in the wild.
Wildlife crime is the fourth largest type of international crime.
In 2015, the primate trade volume was estimated at $138M, a 40% increase over three years.
The United States has remained the largest importer of live primates since 2009.
Wild chimpanzees are already extinct in four of their former African range countries
Chimps and other primates are killed for bushmeat and sold in wildlife markets similar to the one believed to be the source of the coronavirus. The mothers are killed and their babies are sold as pets.