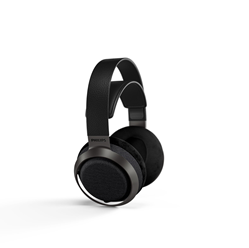 MILPITAS, Calif. (PRWEB) September 15, 2020
Envision Peripherals, Inc. (EPI), an affiliate of TPV Technology Limited (TPV), today announces the latest addition to the Philips audio line with the luxurious Philips Fidelio X3 headphones. These headphones evolve from the highly acclaimed Philips X2HR, and bring a unique blend of exceptional audio performance, comfort, design and build quality to music lovers across North America. Philips Fidelio X3 headphones are available on Amazon for $349.99 USD, starting September 15, 2020 at 12:01 AM PST.
Performance
From the singer's breath to fingers squeaking on a fretboard, these audiophile-grade open-back headphones with pristine tuning convey every detail. Philips Fidelio X3 headphones boast double-layered ear shells that reduce resonance and vibration, and their neodymium drivers are engineered to tilt at 15 degrees, fitting the natural geometry of your ear for optimal accuracy at high frequencies. The result is a flawless performance with exquisite detail. The drivers are large at 50 mm, allowing full range, spacious, 'audiophile' quality sound, while the diaphragms are composed of multiple polymer layers filled with damping gel to avoid sound leakage. The X3's open-back ear-cup design is strategically enveloped with acoustically transparent Kvadrat speaker fabric, allowing air to flow freely through the fabric, eliminating air pressure build-up behind the diaphragm to create an immersive experience.
Comfort
These over-ear headphones are not only built to sound incredible: they are built to feel incredible too. The outer headband adds a reassuring weight, while the snug fit memory foam ear-cup cushions are ideal for long listening sessions. The X3's soft inner headband adjusts to fit perfectly, offering exceptional comfort thanks to the application of highest-quality materials from European specialists, including responsibly sourced Muirhead leather.
The Fidelio Experience
The Philips Fidelio X3 combines performance, style and comfort to create a uniquely enjoyable listening experience as the music connoisseur's choice, featuring the highest quality components 'end to end'. The Philips Fidelio X3 is the latest version of its hugely popular open-back headset, much loved by both audiophiles and artists for their unique combination of natural, accurate sound quality, extreme comfort and stylish, luxury design.
Music connoisseurs will find that the Philips Fidelio experience continues to be built around creating products that inspire a real pride of ownership, focused on three pillars: sound quality, European design and a sensible user experience – with the X3 launching as the flagship for the range.
Philips Fidelio X3 was designed to combine accuracy with generous bass and a warm mid-range – where the focus is on a tight, impactful sound with exceptional separation of instruments and voices, while the high-end of the spectrum is clean, detailed and provides excellent extension. The result is a spacious, large scale delivery with music appearing to extend well beyond the confines of the headset, creating a unique experience that is both authentic and accurate. Designed for flawless all-round listening, the Philips Fidelio X3 is the clear result of meticulous attention to every detail of performance, comfort and style.
Availability
The Philips Fidelio X3 is available on Amazon for $349.99 USD, starting on September 15, 2020. High resolution images are available here, and a full list of specifications is available here. To request review samples or for more information on Philips Audio, contact Jamy Reyes at jamy.reyes@epius.com.
About EPI
Envision Peripherals Inc. (EPI) is an affiliate of TPV Technology Limited (TPV), who holds all Philips-branded home and personal audio licensing worldwide. EPI is the sole distributor of Philips-branded monitors and audio products for business, education, government and consumer use in US. The Philips monitor line offers customers an unparalleled combination of smart innovation, vivid imagery, and timeless style – all backed by an industry-leading four-year advance replacement warranty in the US. With over 50 years of heritage in headphone acoustics, Philips audio products surpass exacting standards in both sound production and ergonomics.
EPI's main office is in Milpitas, California. For more information on the complete range of Philips and AOC products, visit usa.philips.com/monitors, usa.philips.com/headphones, us.aoc.com, or call (510) 770-9988.
###