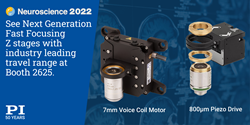 SAN DIEGO (PRWEB) November 01, 2022
Biologists, and Neuroscientists and Microscopy Specialists from around the world are gathering in San Diego to share their research, new ideas, and experience the best their field has to offer. PI engineers are on-hand to answer questions and discuss nanopositioning solutions relating to life-science and microscopy projects in industry and research.
New Voice-Coil and Piezo-Driven Micropositioning and Nanopositioning Stages for Imaging and Microscopy
PI is well-known for its piezo-based high-speed nanopositioning and scanning systems designed to improve super-resolution microscopy results. The latest piezo-driven nano focusing stage for microscope objectives now combines an industry leading 800µm vertical travel with sub-nanometer resolution, millisecond response times and excellent guiding precision based on frictionless flexure guides. The high performance and longer travel range improves OCT scanning performance and two photon microscopy applications. The new piezo focus system also comes with an upgraded digital nanopositioning controller and software, compatible with leading image acquisition programs.
For longer travel focusing and scanning applications, a new compact voice-coil driven nanopositioning focus stage is introduced. The V-308 stage provides 7mm of travel with nanometer resolution. The integrated user-adjustable magnetic preload allows for easy adaptability to different size objectives. Three different controller options, from desktop to miniaturized OEM boards are available to run the fast-focusing stage.
6-Axis Hexapod Parallel Manipulators
PI will also be showing examples of high precision motorized 6-axis hexapod parallel manipulators. These allow programmed moves in all six degrees of freedom with sub-micrometer precision and repeatability.
Low-Profile, High Speed Microscope Stages with Wide Dynamic Range and Excellent in Position Stability
PI's patented ultrasonic piezomotor technology allows for the design of high stability microscope stages with extremely low profile. These stages also provide a very wide velocity range from microns/second to more than 100mm/second. These long-travel, low profile XY microscope stages are complete with controllers, software and joystick.
Microscopy Imaging and Bio-Nanotechnology Solution Packages
Researchers make use of the sub-atomic resolution and extreme responsiveness of piezo stages and nanopositioners to create higher-quality images faster. PI provides a large variety of fast Z-sample stages and XYZ nanopositioning and scanning for 3D imaging, deconvolution, and fast auto-focusing applications.
Learn About PI Microscopy Products
PI Americas
http://www.pi-usa.us | info@pi-usa.us | (508) 832-3456