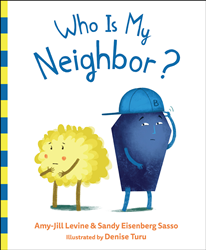 "[A] timeless tale of kindness, compassion, and what it means to be a good neighbor."—Foreword Reviews, Starred Review
LOUISVILLE, Ken. (PRWEB) January 22, 2019
As news stories connected to the U.S.-Mexico border continue to make headlines, Flyaway Books' latest picture book—Who Is My Neighbor?—challenges readers to consider how they view and treat their neighbors.
Written by co-authors Amy-Jill Levine and Sandy Eisenberg Sasso, this creative story helps encourage children to overcome their differences and to show kindness and compassion to their neighbors. Inside the book, the Blues and the Yellows do not mix. All of that changes though when the main character Midnight Blue falls off his bike and a Yellow named Lemon comes to his aid.
Who Is My Neighbor? features bright, inclusive artwork by illustrator Denise Turu and the book is ideal for children ages 3-7.
Foreword Reviews, which recently gave the book a starred review, said it is, "[A] timeless tale of kindness, compassion, and what it means to be a good neighbor."
About Amy-Jill Levine
Amy-Jill Levine is University Professor of New Testament and Jewish Studies and Mary Jane Werthan Professor of Jewish Studies at Vanderbilt Divinity School and College of Arts and Science in Nashville. Her numerous books include Short Stories by Jesus: The Enigmatic Parable of a Controversial Rabbi.
About Sandy Eisenberg Sasso
Sandy Eisenberg Sasso's many children's books include When God Gave Us Words and the award-winning God's Paintbrush. She is the Director of Religion, Spirituality and the Arts Initiative at Indiana University-Purdue University, as well as Rabbi Emerita of Congregation Beth-El Zedeck. For more information, visit http://www.allaboutand.com.
About Denise Turu
Denise Turu has created illustrations for many picture books, graphic novels, and magazines and has exhibited her artwork around the world. For more information, visit http://www.deniseturu.com.
About Flyaway Books
Flyaway Books is a new children's book program dedicated to creating books that will inspire the next generation to fly. Books featured in the program carry themes of diversity, inclusion, self-esteem, kindness, compassion, and care for our world. They are also intentionally multicultural in their artwork and characters. Visit http://www.flyawaybooks.com for more information.