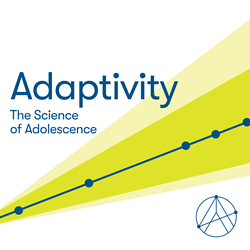 The adolescent brain is primed for healthy and adaptive learning during this period of life. Our new podcast brings together a range of experts in learning and development. - Dr. Ron Dahl, Director of the Institute of Human Development at UC Berkeley
BERKELEY, Calif. (PRWEB) July 30, 2020
The Center for the Developing Adolescent has launched a new podcast series that will explore the science of adolescence. On Adaptivity, host Dr. Ron Dahl, Director of the Institute of Human Development at UC Berkeley, talks with leading researchers in adolescent development—along with featured guests reflecting on their own youth—about the pre-teen, teen, and young adult years. They examine the science that is helping us understand how the challenges we face during the second decade of life actually create unique opportunities for healthy, adaptive learning.
In the first three episodes of Adaptivity, Dr. Dahl talks with professional skateboarder and musician Tommy Guerrero about risk taking, with bestselling graphic novelist Raina Telgemeier about strong emotions, and with psychology professors Candice Odgers and Nicholas Allen about the increase in technology use during the COVID pandemic.
Adolescence—beginning with the onset of puberty and ending in our mid-20s—represents a remarkable period of development, second only to infancy as a time of rapid growth, learning, and adaptation. Yet, adults don't typically view this period with the same wonder and curiosity they bring to the baby and toddler years.
"The adolescent brain is primed for healthy and adaptive learning during this period of life," said Dr. Dahl. "Our new podcast brings together a range of experts in learning and development. We discuss some of the scariest features of these years, like taking risks and feeling intense emotions, and consider how these contribute to formative learning such as the development of heartfelt goals that can shape the rest of our lives."
Adolescence is a key window for social and emotional development during which positive learning experiences can have lifelong impacts. The Center for Developing Adolescent seeks to make science accessible to those who support adolescents, to advocate for equitable policies, programs, and practices based on that science, and to lift up all young people and the world they will come to lead.
For more information on Adaptivity, visit adaptivitypodcast.org. Listen to the first three episodes on iTunes at https://podcasts.apple.com/us/podcast/adaptivity/id1525088214.
###
About the Center for the Developing Adolescent
The Center for the Developing Adolescent works to equitably improve adolescent health, education, and well-being. We do this by building bridges between research, programs, and policy.