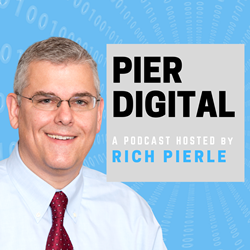 "Now more than ever, leaders must have a blueprint for how to operationalize and respond to what our new future will look like," said Rich Pierle, CEO of Pier Digital.
RINGOES, N.J. (PRWEB) May 19, 2020
At the height of uncertainty around constructing a clear path to return to work during COVID-19, the new Pier Digital Podcast offers much-needed guidance. Host Rich Pierle, CEO and managing partner at Pier Digital Advisory Solutions, applies a technology and information framework to guide listeners through a process on how to navigate significant change successfully in today's dynamic and challenging business environment.
As a strategic advisor and player-coach to organizations facing IT/tech challenges and disruptions, and mission-critical events such as COVID-19, Rich recognized an urgent need for resources and action plans that move organizations forward. He created the Pier Digital Podcast to give business leaders immediate access to guidance and tools he has designed himself to improve outcomes such as the online COVID-19 Information Project site found at http://www.pierdigital.com/covid-19.
The information on the COVID-19 Information Project site is a repository of resources and data from state and federal governments, health organizations, Think Tanks, and more. Leaders can augment their existing efforts with the site's information to better mobilize their people, planning, and processes during COVID-19.
"As states and municipalities are now lifting restrictions, it is incumbent on every business leader to take immediate and prudent steps to mobilize their workplace and create a plan to bring people back to work safely and securely, " says Rich Pierle, CEO of Pier Digital. "Now more than ever, leaders must have a blueprint for how to operationalize and respond to what our new future will look like."
Throughout his 30-year experience in the industry, Pierle has learned that returning to work is not only about technology and systems. Instead, it's about supporting the physical, emotional, and mental well-being of employees who are vital to those same systems. Thus, by placing the needs of people at the center of conversations – the Pier Digital Podcast provides proven strategies to not only reduce costs and mistakes while doing business but also to help leaders account for all stakeholders throughout digital transformational processes.
With each episode under 20 minutes, the Pier Digital Podcast is a resource for busy CIOs, CEOs, CTOs, and C-Suite leaders who must build processes and continually adjust their organization's operating model to align with overall business strategy. Rich and subject-matter guests discuss modern contemporary themes in innovation and digital strategy, ranging from digital transformation and legacy infrastructure, re-platforming to business continuity planning, work from home and return to work (RTW) planning.
A new episode is available on the 15th of the month on Spotify, Apple Podcasts, Google or wherever you choose to listen to your podcasts.
To supplement the podcast, guests can head to http://www.pierdigital.com/covid-19 for the latest updates on existing risk management and return to work programs surrounding COVID-19.
About Pier Digital Podcast:
The Pier Digital podcast https://pierdigital.com/podcast/ is a show for technology leaders who want to discuss relevant topics and issues of the day from a technology perspective, everything from digital transformation, business continuity planning for coronavirus, legacy infrastructure re-platforming, and much, much more.
About Rich Pierle, Podcast Host:
Rich Pierle is CEO and managing partner at pier digital advisory solutions, a boutique consultancy that supports companies on the journey from legacy technologies and business models to the realization of a digitally operating model. Rich shares inside from the perspective as former CIO and EVP for global services at Becton Dickinson. Now a leading independent consultant helping fortune 500 leaders take advantage of accelerating technological change, digitally transforming the organizations and culture. All opinions expressed by Rich Pierle and Pier Digital and podcast guests are solely their own opinions.