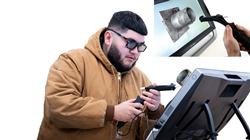 "Usually when you transition to remote learning, you worry about students completing the work. With zSpace, a lot of them went beyond the regular lessons. It's really engaging content, and they dove in even further than their assignments called for, learning on their own."
SAN JOSE, Calif. (PRWEB) November 18, 2020
With student enrollment falling in both K-12 and secondary institutions, career and technical education (CTE) educators have raced to develop creative methods to succeed in a near-impossible undertaking: teaching hands-on content and skills in a remote environment. zSpace, a technology company specializing in augmented and virtual reality (AR/VR) education, in partnership with NOCTI, the national leader in CTE credentialing, today announced the release of CTE content that allows students to earn up to 33 industry credentials in health science, advanced manufacturing, transportation, and agri-science. Additionally, AR/VR technology and content from zSpace supports 12 out of the 16 federal CTE pathways and is being used by school districts, career centers, and community colleges nationwide as part of their remote, face-to-face, or blended learning strategies.
"Nothing will replace the hands-on skills that CTE pathways offer for students, but we can no longer ignore the impact this 'new normal' is having on their ability to earn technical credentials," said LeAnn Wilson, executive director of the Association for Career and Technical Education (ACTE). "Leveraging AR/VR technology, like zSpace, allows students to dissect an eyeball, change brake pads, and build a hydraulic system, allowing them to earn multiple NOCTI credentials and prepare for a high-wage, high-demand career."
In addition to offering NOCTI-certified courses, zSpace is also a supplemental tool for many other industry certifications. For example, in health sciences, zSpace offers a "lite" version of the FDA-approved EchoPixel True3D, allowing medical students to visualize and interact with CT and MRI DICOM image data. Another application, HVAC by Labtech, provides students with AR/VR learning modules to learn the basics of refrigeration and air conditioning in a safe environment where repair procedures can be practiced and repeated. For construction courses, zSpace partnered with VIVED Learning to offer VIVED Construction with zSpace. Students can build a chalkline, lay out a framed house and explore the necessary tools needed to construct the core elements of a residential home.
zSpace technology breaks down the typical barrier between users and digital computer images by creating a multidimensional AR/VR environment where immersive and interactive 3D content leaps out of the screen. Featuring 3D-screen technology, headtracking and lightweight glasses, the zSpace laptop and all-in-one PC provide immersive and interactive 3D educational experiences either at home or in person by allowing students to interact with STEAM and CTE content in a flexible, user-driven environment.
zSpace in the Real World
Warren Takata, an automotive technology instructor at Renton Technical College in Renton, Washington, has been teaching students using zSpace laptops preloaded with course curriculum since the fall 2020 semester, allowing students to complete their lab work from any location. Takata said student engagement actually increased with remote learning and zSpace.
"Usually when you transition to remote learning, you worry about students completing the work," said Takata. "With zSpace, a lot of them went beyond the regular lessons. It's really engaging content, and they dove in even further than their assignments called for, learning on their own about motors and transmissions."
Takata and his colleagues believe that the use of zSpace will continue to expand when students return to campus, as other departments realize how much the learning experience has been enhanced with the zSpace laptops.
"We've taught automotive technology in the same way for decades," Takata said. "Students gravitate towards learning with high-tech tools like zSpace. Programs that don't adopt new technologies are going to be left behind."
zSpace at ACTE Virtual Vision, December 1-4
Because of its growing portfolio of CTE offerings, zSpace is proud to participate in ACTE Virtual Vision.

Pre-conference, Tuesday Dec. 1, 3:45 - 4:15 pm EST: Earning Industry Certifications Beyond the Classroom - The New Reality of CTE. Learn how CTE students can earn industry credentials in remote and blended-learning environments. Speakers include Michael Carbenia, executive director of CTE, zSpace, Eric Frauwirth, Ed.D, New Hampshire Department of Education, Mary Velasquez, IGNITE Expeditions, and Shea Zuckerman, WSU Tech.
Tuesday Dec. 1, 3:45 - 4:15 pm EST: Your Future with Augmented and Virtual Reality. This interactive session with John Foster of NOCTI and Michael Carbenia of zSpace helps attendees understand the benefits of AR/VR content alignment when combined with competencies found in national industry credentials.
Wednesday, Dec. 2, 2:45 - 3:15 pm EST: https://www.careertechvision.com/program_schedule.cfm?session_key=2A7A1961-D66C-1E6D-357E-2420250D63C4&session_date=Wednesday, Dec 02, 2020 [District Case Studies - Earning Certifications in a Socially-Distanced World __title__ ]. Attendees will hear from school districts that have taken their CTE programs virtual with VR and AR, earning credentials in health science, advanced manufacturing, agri-science and transportation. Speakers include Dr. Therese Ellender, St. Landry Parish STEAM Supervizor and Michael Carbenia, zSpace.
About zSpace
zSpace® improves STEAM and CTE performance by delivering zSpace Experiential Learning™ with AR/VR, anywhere, anytime. More than a million students have benefited from learning with zSpace in preparing for success in college and careers. A privately held, venture-backed company located in San Jose, California, it has more than 50 patents. zSpace was named "Cool Vendor" by Gartner, Inc., "Best in Show at ISTE" by Tech & Learning Magazine for three consecutive years and ranked two years in a row on the Inc. 500 list of fastest-growing companies. Visit http://www.zspace.com, or follow @zSpace on Twitter.
Sources:
National Student Clearinghouse Research Center's Monthly Update on Higher Education Enrollment.https://nscresearchcenter.org/stay-informed/. Oct. 22, 2020.
"Enrollment Is Dropping In Public Schools Around the Country," NPR. https://www.npr.org/2020/10/09/920316481/enrollment-is-dropping-in-public-schools-around-the-country. Oct. 9, 2020.