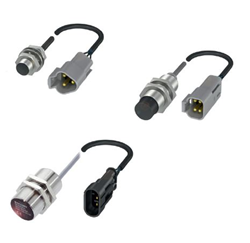 FLORENCE, Ky. (PRWEB) May 21, 2021
Balluff's new inductive sensors with preinstalled automotive-style connectors make vehicle construction easier and the final product more dependable and easier to maintain.
Balluff has introduced 12 standard inductive proximity sensors to its growing mobile equipment portfolio. These proximity sensors are available in three connector types —3-pole Deutsch triangular connector, 4-pole Deutsch square connector and AMP Superseal 1.5mm 3-pole flat connector; and in different sizes and ranges: M12 4 mm, flush-mount; M18 8mm, flush-mount; M18 16 mm, non-flush-mount; and M30 15mm, flush-mounts.
Inductive proximity sensors are essential in many mobile equipment onboard applications, and like other Balluff proximity sensors, the sensors are sealed for added protection. Additionally, they feature IP67-rated connectors and thermoplastic polyurethane (TPU) cables, making the sensors resistant to oil, grease and abrasion. They are built to handle the strenuous demands of off-highway mobile equipment manufacturers.
Deutsch and AMP connectors are very popular in mobile equipment industry because they are quick to install and weather resistant.
"By offering them preinstalled on our Balluff proximity sensors we can provide manufacturers Balluff's high-quality sensors while also delivering the go-to connectors that simplify their builds and repairs," said Rob Crumley, Balluff industry manager for mobile equipment and rail.
For more information on Balluff's mobile equipment portfolio, visit http://www.balluff.com.
Learn more at: http://www.balluff.com
About Balluff Inc.
Balluff Inc. is the U.S. subsidiary of Balluff GmbH, Neuhausen, Germany. Balluff is a leading supplier of networked IO-Link control system architectures that unlock the potential of the IIoT and Industry 4.0. Balluff offers a wide range of intelligent IO-Link and industrial Ethernet sensors in a variety of technologies including inductive, photoelectric, capacitive, and magnetic as well as magnetostrictive linear position sensors, magnetic tape linear encoders, industrial RFID systems, and industrial vision systems. Balluff provides cost-saving, process-enhancing solutions to machine builders and manufacturers to control, regulate, automate, assemble, position, and monitor manufacturing, assembly, and packaging sequences. Industries served include: automotive, packaging, food processing, beverages, tire, primary metals, conventional and alternative energy, semiconductor, plastics, and fluid power.