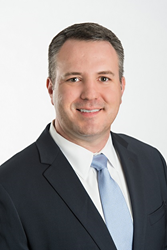 WINSTON-SALEM, N.C. (PRWEB) July 20, 2018
Novant Health is pleased to announce that Chad Setliff will be the new president and chief operating officer at Novant Health Forsyth Medical Center in Winston-Salem.
Setliff, who begins in the new role on Aug. 12, most recently served as president and chief operating officer of both Novant Health Kernersville Medical Center and Novant Health Clemmons Medical Center. Before that, he was president and COO of Novant Health Medical Park Hospital in Winston-Salem. Throughout Setliff's time with Novant Health, he has held a variety of leadership roles, including positions in case management, business planning, cardiology, orthopedics, and stroke and neurosciences.
Setliff received his bachelor's degree in economics and systems engineering from the U.S. Military Academy at West Point in New York and a master's degree in business administration from Wake Forest University in Winston-Salem.
A former active-duty officer in the U.S. Army, Setliff is involved in the local community as a member of American Heroes for North Carolina Board of Directors and the executive board of the Old Hickory Council of the Boy Scouts of America. He served on the executive team of the American Heart Association's Heart & Stroke Walk and served as a board member of the Lewisville-Clemmons Chamber of Commerce, Piedmont Triad Partnership and the Jerry Long YMCA.
Dr. Stephen Motew will continue in his role as senior vice president and president of Novant Health's Greater Winston-Salem market.
Forsyth Medical Center is a 927-bed hospital offering a wide range of services in emergency, medical, surgery, rehabilitation and behavioral health. Centers of excellence at the facility include the Rehabilitation Center, Maya Angelou Women's Health and Wellness Center, Heart and Vascular Institute, Derrick L. Davis Cancer Center, Stroke and Neurosciences Center, Orthopedic Center and Behavioral Health.
About Novant Health
Novant Health is an integrated network of physician clinics, outpatient facilities and hospitals that delivers a seamless and convenient healthcare experience to communities in Virginia, North and South Carolina, and Georgia. Named in 2017 by Becker's Hospital Review as one of the nation's 150 best places to work in healthcare, Novant Health network consists of more than 1,500 physicians and over 28,000 employees that provide care at over 580 locations, including 14 medical centers and hundreds of outpatient facilities and physician clinics. In 2017, the health system provided more than $789 million in community benefit, including financial assistance and services.
For more information, please visit our website at NovantHealth.org. You can also follow us on Twitter and Facebook.