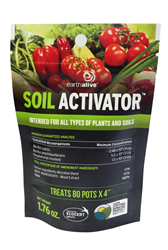 Our products have proven themselves in all kinds of climates and soils, so no matter where you work or what you grow we can provide the soil health support needed.
QUEBEC (PRWEB) October 25, 2018
Successful gardening starts from the ground up. Just like people, garden soil needs probiotics, to grow strong and active. Whether you are growing tomatoes or geraniums, nutrients found in the new Soil Activator feeds the soil so the soil can feed the plants.
Soil Activator is proven worldwide to boost yields of dozens of crops and increase productivity of plants for years to come.
Recently introduced in the United States, smart gardeners are adding this pioneering soil probiotic to create nutritious soil, using less fertilizer and less water and saving you time and money, according to Michael Warren, CEO of Earth Alive.
Just what is a soil probiotic? "Soil Activator supports overall soil health similar to the probiotic supplement humans take to improve their gut health," explains Warren. "These natural microbes are safe and simple to use to grow bigger, robust flowers, vegetables and herbs."
Why are these microbes essential? According to Warren, these tiny, live bacteria are powerful, hard-working microorganisms naturally found in fertile soil but are often missing in home gardens. Earth Alive blends these natural microbes with proprietary ingredients to produce this cutting-edge soil booster.
"We want gardens to be full of living organisms, as it should be naturally," says Warren. "Our Soil Activator tackles the most difficult challenges for both the home gardener and urban grower without using environmentally harmful chemicals and additives."
With proven results around the world, Earth Alive is also helping gardeners be good stewards of the Earth. Nutritious soil means more sustainable growing.
The product is easy to use. Either mix the powdery substance with water and pour around the plants or gently work it directly into the soil around the base of the plant. For best results apply early in the growing season to give the bacteria a running start.
Soil Activator, produced in Montreal, Quebec, is available to order from major distributors in select U.S. states.
Earth Alive is a key player in world markets of environmentally sustainable solutions. The company works with the latest innovations in microbial technology to formulate and patent innovative products to tackle the most difficult industrial challenge once reserved only to environmentally harmful chemicals and additives. The company focuses on environmental sustainability in the agriculture industry and dust control for the mining industry. For additional company information, please visit: http://www.earthalivect.com