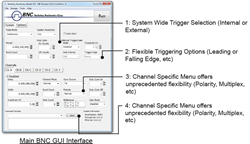 Take the 5 decades of expertise in timing we tap into at Berkeley Nucleonics, and squeeze it into a compact module about the size of a peanut butter and jelly sandwich, and you have an exciting alternative to benchtop DDGs, says Junior Choe
SAN RAFAEL, Calif. (PRWEB) August 08, 2018
Berkeley Nucleonics Corporation (San Rafael, CA) has launched the latest design in a growing family of USB-Driven instrumentation. The new multi-channel pulse/delay generator offers 6 channels of delay and width control in a compact design. The new DDG introduces a host of updated operating modes, output features and mechanical versatility. Intuitive front and rear panel controls allow start and stop, active indicators and trigger options. This enables users to orient outputs on either the front (benchtop) or rear of the unit (rackmount).
The Model 525 Pulse / Delay Generator addresses a growing need for space saving designs, less mechanical components and cost reduction. The instrument is powered by USB and measures just 2.5"x6.5"x7.0" with Gate/Trigger and Output Connectors. As a growing number of timing and gating applications demand PC-controlled devices, the Model 525 introduces 6 timing channels at an affordable price. "Take the 5 decades of expertise in timing we tap into at Berkeley Nucleonics, and squeeze it into a compact module about the size of a peanut butter and jelly sandwich, and you have an exciting alternative to benchtop DDGs," says Junior Choe.
Berkeley Nucleonics provides a simple software GUI to control the delay generator from any PC. Front the software GUI, parameters like delay from trigger, pulse width, when to trigger, or how many pulses to burst can be quickly set up. Using the new Clock-Divider, you can adjust pulse rates for each channel even when using a common trigger. (Ch1, 20 MHz; Ch2, 5 MHz, Ch3, 50Hz...etc). Another new option allows external triggering of selected channels.
The Model 525 Pulse/Delay Generator boasts 2ns timing resolution and 1ppm accuracy, excellent timing characteristics for synchronizing multiple instruments in an experiment or gating high speed device imaging devices. Other applications in this time domain include triggering lasers and laser drivers, gating sensors, detectors and DAQ, or simulation in RADAR and LIDAR test stations. In celebration of 55 years in business, the company is offering introductory pricing of $1963 / unit in small quantities. For a quote or additional details, call the factory at 800-234-7858 or Engineer Live Chat @ http://www.berkeleynucleonics.com - we are happy to discuss your application.
Press Contact:
Matteo Kraftsow, Marketing Manager
matteo(at)berkeleynucleonics.com
Technical Contact:
Junior Choe, Product Manager
junior(at)berkeleynucleonics.com
About Berkeley Nucleonics
Berkeley Nucleonics Corporation (BNC) was founded in 1963 and has developed the most comprehensive line of signal sources and analysers. The company offers signal generators with Light Outputs (450-1550nm), TTL outputs (fS timing), High Voltage Outputs (up to 800V), NIM Tail Pulses, RF & Microwave Signals (up to 40GHz), Arb/Function Generators and Ultra-Fast Rise Time Pulsers (70pS Tr). The company also offers signal analysis and phase noise testing instrumentation with ranges up to 40GHz and Time-to-Digital Convertors with 40ps resolution. BNC offers custom packaging and software tools, ultra low jitter designs (2ps) and OEM design services.