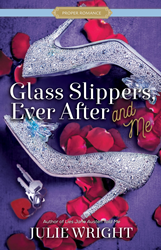 "We hear from readers and reviewers that the PROPER ROMANCE® books are 'heart-pounding romances."
SALT LAKE CITY (PRWEB) October 29, 2019
PROPER ROMANCE®, Shadow Mountain Publishing's series of sweet romance novels now totals 28, including the recently released contemporary romance, Glass Slippers Ever After and Me by Julie Wright, a modern, re-imagined Cinderella story, which was released on October 21, 2019. The romance series features many love stories, that refrain from swearing and steer clear of descriptive sexual content; but for anyone who loves a good Hallmark movie, they'll enjoy this sweet romance!
In 2012, Shadow Mountain editor, Heidi Gordon knew she had a bestseller in her hands with the first Proper Romance®. "We want to make a statement with the release of Edenbrooke, because it was different from most other books in the romance genre. It was blush-worthy but not a 'hide the cover' novel. Our research told us that a sizeable audience of young and older readers was looking for clean romance they could enjoy. Thus was born, the Proper Romance® series."
Since that time, Shadow Mountain has published with seven authors with even more room to grow. "It's a growing category for us," noted Gordon. "We hear from readers and reviewers that the PROPER ROMANCE® books are 'heart-pounding romances,' page turners, and must-reads for all romantics." Many titles have received rave reviews from Publishers Weekly, Foreword Reviews, and Romantic Times, among others, including this starred review from Booklist about Glass Slippers Ever After and Me, "This sweet, heartfelt tale of authentic characters facing intriguing challenges is at once very romantic and charmingly chaste."
Five other Proper Romance® novels were released earlier in 2019. Two novels published this year by Sarah M. Eden included the Western Romance, Healing Hearts, and a Victorian Romance titled The Lady and the Highwayman. Josi S. Kilpack's Regency Romance novel, was released in May, titled Daisies and Devotion, and Nancy Campbell Allen's third Steampunk romance, The Lady in the Coppergate Tower, was released in August. And finally a Historical Romance, by Ilima Todd A Song for the Stars, which is inspired by a true story and set in the Hawaiian Islands, was released in April.
Shadow Mountain frequently runs giveaways of Advanced Reader Copies of these novels on their social Facebook and Instagram pages, both @properromanceseries. For anyone looking for a series of sweet romances to escape in, journey to http://www.ProperRomance.com to find your favorite romance sub-genre and get swept away in smart, entertaining romance novels both mother and daughter can enjoy.