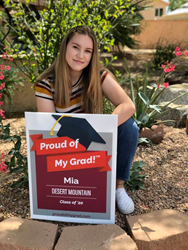 "Too many kids work hard to earn a high-school diploma, only to have that accomplishment go unrecognized," says Randall White, co-founder of Proud of My Grad. "While this can't replace those senior-year activities, a Proud of My Grad yard sign is a fun way to draw attention to this major milestone."
DALLAS (PRWEB) April 14, 2020
This spring, families with a student graduating from high school can express pride in their seniors and help resource-strapped teachers at the very same time.
Proud of My Grad™ is a new online venture that sells yard signs parents can customize to proclaim how proud they are of their teen's academic achievement. Unlike other sign companies that serve a school or a school district, it can deliver signs to the parents of seniors at more than 7,300 high schools across the country. In its first week of operation, it has successfully put Proud of My Grad signs in the yards of high school seniors in Texas, Arizona, Georgia, North Carolina, Missouri and other states.
While Dallas business partners Randall White and Jeff Herrington conceived the idea nearly a year ago, the product is being embraced by families whose sons and daughters are now missing senior proms, graduation ceremonies and celebrations due to the COVID-19 fallout.
"Too many kids work hard to earn a high-school diploma, only to have that accomplishment go unrecognized," says Randall White, co-founder of Proud of My Grad. "While this can't replace those senior-year activities, a Proud of My Grad yard sign is a fun way to draw attention to this major milestone."
Proud of My Grad can produce a yard or window sign for any of the 7,000-plus public and private high schools listed in its database. (As of now, Alaska and Hawaii are not included.) The vibrant, 18 x 24-inch signs feature a jaunty mortar board with tassel, the name of the school the senior is graduating from and the student's class year. The weather-hardy signs also include a metal, H-shaped stand similar to those that come with political signs.
Purchasers can customize a sign with the student's first name, first and last name, or a nickname (up to 14 characters). NOTE: Schools not included in the database can be quickly added by Proud of My Grad when notified by the purchaser.
"Our research revealed customers wanted some say in the look of the sign as well as the way their graduate's name is represented for security reasons," White says. "However, we've kept the customization simple to keep the cost of a sign under $25, making it quicker and easier to purchase."
White adds they are even offering a discount to those who want to purchase another sign for a friend or neighbor who may not be able to afford one.
Additionally, the company will donate a percentage of its profits to adoptaclassroom.org, a nonprofit that helps educators across America secure the classroom supplies they often pay for themselves. Once this year's graduation season is in the record books, Proud of My Grad will calculate its profits and donate between 2.5-4% to adoptaclassroom.org.
"Too many teachers struggle to equip their classrooms with the proper learning tools, often digging into their own pockets to purchase the items they need," said Herrington. "So, by purchasing a Proud of My Grad sign, the parents of those completing their high school education are helping the next generation of students to pursue theirs."
Herrington says the signs are already proving they will have value well beyond the time of graduation.
"Some students are planning to ask their fellow graduates to write a message on the back of their signs, so they become keepsakes the way mortar boards and tassels have been in the past," he says. "Also, graduates will be able to bring their signs to future class reunions to use as decorations."
This year, all signs express pride for someone in the Class of 2020. For following years, the company will customize the signs for each class (i.e., Class of 2021, Class of 2022).
"Like a good education, we want our Proud of My Grad signs to never go out of fashion," said White.
Learn more at proudofmygrad.com. and follow @proudofmygrad on Facebook, Twitter and Instagram.
Recipients are encouraged to share photos of themselves with their signs on social media via #proudofmygrad #beproud and #classof2020.
ABOUT PROUD OF MY GRAD. Launched in early 2020, Proud of My Grad™ offers yard and window signs that commend a high school graduate for their academic achievement. The Dallas-based organization's ultimate goal is to encourage more students to get their high school diploma and view that as the first step toward launching their careers. Along the way, Proud of My Grad™ will also strive to help make achieving an education easier, through donations to education non-profits and other programs that ennoble the quest for knowledge. Learn more at proudofmygrad.com, and follow @proudofmygrad on Facebook, Twitter and Instagram.
CONTACT:
Becky Mayad
214-697-7745
becky@mayadpr.com