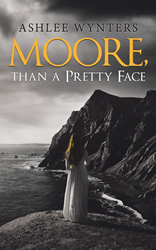 MELBOURNE (PRWEB) December 03, 2018
First time author Ashlee Wynters has released her enthralling and sexy psychological thriller, "Moore, Than a Pretty Face." Filled with intriguing twists and turns along with sensual romance, the story follows Ella Moore, a beautiful woman who catches the eye of all those around her, as she begins to rediscover herself after being stuck in a mundane marriage, career and life.
One day during work, Ella receives an email from the director of their company, Kevin Jacobs, that requires her to meet in his office. Expecting news that she is being let go as there had been recent downsizing, Ella has no idea this meeting with Kevin is about to change her life forever and in a way she never anticipated. As Ella begins to work closely with Kevin in her new position, the struggle between playing the good married woman to her husband Robbie and embracing her dark side begins to threaten all of her existence leading to thrilling sexual escapades with unexpected danger looming on the horizon.
"Writing 'Moore, Than a Pretty Face' became my escape from the daily pressures of life as I found it to be a wonderful creative outlet to write about a completely different woman and life than my own," said Wynters. "I love writing psychological thrillers and am inspired by all kinds of music and entertainment such as Stranger Things and The Hunger Games."
"Moore, Than a Pretty Face" presents a strong female protagonist in Ella Moore who is able to face what is thrown at her ultimately coming out stronger in the end as told in an entertaining and sexy thriller with a twist. To learn more please visit, http://www.ashleewynters.com.
"Moore, Than a Pretty Face"
By Ashlee Wynters
ISBN: 978-1-5043-1389-6 (sc), 978-1-5043-1390-2 (e)
Available through Amazon, Barnes & Noble, and Balboa Press
About the author
Author Ashlee Wynters was born and raised in Melbourne, Australia where she lives with her long-term partner. She works full time as an accounts clerk and during her free time enjoys getting out in nature, whether on long walks or working on her garden, and staying active with yoga and Pilates. Her mother encouraged her to do something for herself during a stressful time in her life and suggested creative writing. That same day, Wynters wrote her first 1,000 words and then continued writing which is how "Moore, Than a Pretty Face" came to be and she is currently working on another psychological thriller.
Review Copies & Interview Requests:
LAVIDGE – Phoenix
Lauren Dickerson
480-998-2600 x601
ldickerson(at)lavidge.com