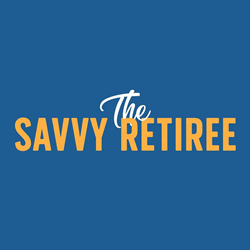 "Our goal is to take the focus off how much money we have for life in retirement and to put the focus instead on how much life in retirement we can squeeze from the money we have."
BALTIMORE (PRWEB) February 14, 2020
Study after study warns that Americans aren't saving enough to retire comfortably. The experts advise people to endure the nine-to-five grind for years longer than they want to and, even then, lower their expectations for their retirement.
But the editors at the newly launched The Savvy Retiree take a different approach. They argue that these days, a retiree's know-how, experience, expertise, and seasoned judgment are valuable currency, and they give people approaching retirement more power—and more possibilities—than they may realize.
The "New Retirement" isn't about stopping work on a dime to sit around and do nothing. Instead, it's about each person designing a life that suits him or her. The big idea is to retire with purpose, to keep growing, and to stay active.
"We are the vanguard of the 'New Retirement,'" says Jeff Opdyke, The Savvy Retiree Editor. "The new regime. The retirement revolutionaries. We're here to subvert the status quo and throw off the expectations that the financial industry and the financial media preach to us.
"Retirement is no longer about hitting 65 or 66 or 67 with exactly enough money to see you through your last breath," Opdyke argues. "We're Retirement Reformers and our manifesto is simple: Live richer, not wealthier.
"I think most people want a sense of purpose in retirement, an opportunity to keep growing and to keep my mind and body active. That's what we're focused on at The Savvy Retiree," says Opdyke.
"You don't have to have a million dollars in the bank to do that.
"To suggest that working part-time in retirement, for instance—at something you enjoy and can do on a schedule that suits you—is somehow less desirable than pushing back retirement for years on end to save every last penny for some nebulous, unknowable number…that's just ludicrous," says Opdyke.
The Savvy Retiree editors contend that the very nature of retirement has changed, but that the mainstream discussion of it hasn't. With all the online hubs that exist today to match freelancers with those around the world needing help on a one-off or ongoing basis, for instance, retirees have lots of flexible, interesting earning opportunities that didn't exist a decade or two ago. That gives them a lot more control over their retirement years than they may realize. Even a modest side income in retirement can provide not only needed income but purpose and interest and social connections as well.
Retirees can be consulting after a career, teaching English overseas, selling their art and handicrafts… there are many ways to earn a paycheck deep into those later years. The Savvy Retiree shows readers how to find and tap opportunities like those. Another example: Lots of retirees want to travel but feel they can't afford to. The Savvy Retiree shows readers how to afford a travel-rich life on a shoestring budget.
"There are a combined 137 million boomers and Gen Xers, give or take," says Jeff. "Which means there are 137 million different dreams about what life's third act—this 'New Retirement' might look like. Or, put another way: There is no one retirement dream and there is no magic number any of us should be saving to reach," says Opdyke.
Typically, the discussion about retirement has been focused on one thing: money—or more accurately, retirees' alleged lack thereof.
But The Savvy Retiree aims to redirect the conversation, asking readers to think about retirement "life first, not money first."
"Our goal," says Opdyke, "is to take the focus off how much money we have for life in retirement and to put the focus instead on how much life in retirement we can squeeze from the money we have."
The new Savvy Retiree website hosts articles about innovative money-making strategies, ways to build a portable income, tips for boosting health and well-being, methods to maximize Social Security, and so much more. More information can be found, here: on The Savvy Retiree
Editor's Note: Members of the media have permission to republish the article linked above once credit is given to The Savvy Retiree
Further information, as well as interviews with expert authors for radio, TV or print, is available on request. Photos are also available.
The Savvy Retiree is a property of International Living. For information about content republishing, source material or to book an interview with one of our experts, contact PR Managing Editor, Marita Kelly, +001 667 312 3532, mkelly@internationalliving.com