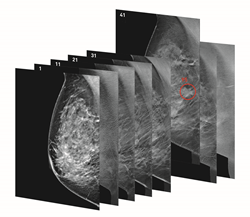 Transpara is like having a colleague providing a second opinion, I use it routinely for clinical mammography when in doubt.
NIJMEGEN, Netherlands (PRWEB) May 12, 2021
Another key publication, this time in the European Radiology journal, shows the benefits of using Transpara breast AI with 3D mammography.
Here are the key findings from the publication by S L van Winkel, A Rodríguez-Ruiz, L Appelman, A Gubern-Mérida, N Karssemeijer, J Teuwen, A J T Wanders, I Sechopoulos, R M Mann. Impact of artificial intelligence support on accuracy and reading time in breast tomosynthesis image interpretation: a multi-reader multi-case study. European Radiology (2021) https://doi.org/10.1007/s00330-021-07992-w
Key points:

Radiologists improved their cancer detection accuracy in digital breast tomosynthesis (DBT) when using an AI system for support, while simultaneously reducing reading time.
The stand-alone breast cancer detection performance of Transpara matched the average performance of radiologists for reading digital breast tomosynthesis exams.
The use of Transpara could allow for more cost-effective breast cancer screening programs with DBT.
Transpara, based on deep learning technology, is CE marked and FDA cleared for both 2D and 3D mammography within the same solution. This means customers who start using it for 2D mammography have a seamless transition to 3D without the costs of changing hardware. In addition, this study highlights the efficiency savings that can be realised using AI as decision support. Our experience is that users become more confident with the system once they've used it and confirm their trust in it.
Ritse Mann, Radiologist, UMC Radboud in the Netherlands who was one of the investigators of the study stated, "Transpara is like having a colleague providing a second opinion, I use it routinely for clinical mammography when in doubt."
Pieter Kroese, Chief Commercial Officer at ScreenPoint Medical said, "One of the main challenges of the transition from 2D to 3D mammography is the doubling of reading time. This study shows that by using Transpara AI decision support, radiologists can not only read 3D mammograms more quickly, but they can also improve their accuracy. This is a win-win situation and could help knock down one of the main barriers to 3D adoption in screening programs globally."
Clinical Scientist, Alejandro Rodriguez-Ruiz added, "Transpara is setting the benchmark for evidence in breast AI with an unprecedented eight independent peer reviewed publications in high Impact journals including Radiology and the Journal of the National Cancer Institute. Our clinical partners have helped with the most robust body of evidence for the use of Transpara in both 2D and 3D mammography, across multiple vendors and mammograms from a wide range of demographics in over 10 countries."
Transpara is being used daily in more than 20 countries worldwide with well over a million mammograms processed. ScreenPoint Medical is delivering on its promise of bringing highly effective AI to the fight against breast cancer.
About ScreenPoint Medical BV.
ScreenPoint Medical is the leading developer of AI driven image analysis technology which enables the automated reading of mammograms and digital breast tomosynthesis examinations. With proven accuracy at least matching that of experienced radiologists, ScreenPoint's Transpara system is the most advanced available, exploiting Big Data, Deep Learning and the latest advances in Artificial Intelligence. The system can identify high risk breast lesions quickly, enabling earlier detection, earlier treatment and a greater chance of survival.
ScreenPoint Medical was founded in 2014 by Professor Nico Karssemeijer and Professor Sir Michael Brady, two internationally respected experts in breast imaging, machine learning and computer aided detection.
The company's Head Office is in Nijmegen, The Netherlands.
For more information, please email info@screenpointmed.com