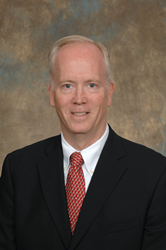 This study demonstrates the ability of the Soteria Bed Barrier protocol to help reduce infection rates in the acute care setting.
CINCINNATI (PRWEB) January 24, 2020
A new study completed by Xavier University researchers and Bon Secours Mercy Health Our Lady of Bellefonte Hospital (OLBH) achieved a 59 percent decrease in hospital onset CDI. This is double the recent nationwide CDI reduction goal established by the Centers for Disease Control and Prevention.
The retrospective pre-post [study recently published in The Journal of Health Economics and Outcomes Research,* evaluated the impact of two interventions implemented together; a launderable bed barrier for hospital beds (Soteria® Bed Barrier, Trinity Guardion, Batesville IN) designed to improve mattress disinfection, and an antibiotic stewardship program based on guidelines from the Society for Healthcare Epidemiology of America and the Infectious Diseases Society of America.
"The excellent results of this study were not entirely unexpected," said Dr. Edmond A. Hooker, the study's lead author and professor in the Department of Health Services Administration at Xavier University. "We published results in 2015 proving the effectiveness of this bed barrier in helping reduce C. diff in long-term care settings**, so we expected a significant CDI reduction. This study demonstrates the ability of the Soteria Bed Barrier protocol to help reduce infection rates in the acute care setting as well."
*Use of a Launderable Bed Barrier and Antibiotic Stewardship to Decrease Hospital Onset Clostridioides difficile Infections in an Acute Care Hospital: A Retrospective Pre-Post Case [Study. Edmond A. Hooker (Xavier University and U. of Cincinnati, Cincinnati, Ohio), Peter J. Mallow (Xavier University), Christine McKinney (Our Lady of Bellefonte), Martin L. Gnoni (Our Lady of Bellefonte), Francisco Fernandez Gonzales (Our Lady of Bellefonte); Journal of Health Economics and Outcomes Research, 2019.
**Decreasing Clostridium difficile health care-associated infections through use of a launderable mattress cover. Edmond A. Hooker MD, DrPH, Mark Bochan MD, PhD , Troy T. Reiff BS, RN, Catherine Blackwell RN, BSN, CWOCN , Kevin W. Webb CHSP/CHCM , Kimberly W. Hart, MA. AJIC, October 2015; https://www.ajicjournal.org/article/S0196-6553(15)00753-1/fulltext .
Xavier University
Xavier University is a private university located in Cincinnati, Ohio, providing a liberal arts education in the Catholic Jesuit tradition. Founded in 1831, it is the sixth-oldest Catholic university in the nation. U.S. News & World Report ranks it No.6 among master's-level universities in the Midwest and The Princeton Review names it as one of the "Best 377 Colleges in America."
Our Lady of Bellefonte Hospital
Our Lady of Bellefonte Hospital (OLBH) is part of Bon Secours Mercy Health, one of the 20 largest health systems in the United States and the fifth-largest Catholic health system in the country. The ministry's quality, compassionate care is provided by more than 60,000 associates serving communities in Florida, Kentucky, Maryland, New York, Ohio, South Carolina and Virginia, as well as throughout Ireland. OLBH provides compassionate medical care to thousands of residents in the Tri-State area through a network of primary and specialty care practices, ambulatory care sites and the hospital, a 214-bed facility located in Russell, Kentucky. Consistent with its commitment to serve each patient with dignity, Bon Secours Mercy Health provides nearly $2 million per day in community benefit. The mission of OLBH is to extend the compassionate ministry of Jesus by improving the health and well-being of our communities and bring good help to those in need, especially people who are poor, dying and underserved. For more information visit BonSecours.com.
Trinity Guardion
Founded in 2010 and based in Batesville, IN, Trinity Guardion manufactures the Soteria™ Bed Barrier, the only launderable microbarrier cover for hospital beds and bed decks that is specifically engineered to block and eliminate pathogenic bacteria such as Clostridium difficile. The mattress and bed deck microbarrier with its simple disinfection protocol helps protect new patients from the bioburden of previous bed occupants, preserve the integrity of mattresses and support technologies, and defend hospital reputations by reducing bed contamination and related infection risk.