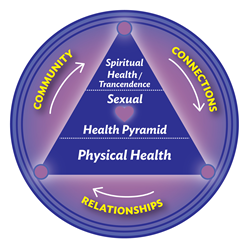 "Enviromax - live to the max"
FAIRBANKS, Alaska (PRWEB) October 15, 2018
Enviromax presents a new Sexual Health Pyramid for Prostate Cradle customers and people everywhere to learn how to improve physical health, sexual health, and spiritual health!
The sexual health pyramid is designed to help people achieve higher levels of fulfillment in their lives. There is more to sexual health than having great sex. In order to experience great orgasms, it helps to begin with creating a foundation of a well balanced life.
Imagine a simple pyramid diagram with three levels:
Physical health is the base level, and the foundation for sexual health, because physical health is commonly known as "the greatest wealth." When we take care of our body, good health shines into every aspect of our lives, including sexual health.
Sexual health is the heart of the pyramid, balanced between physical and spiritual health. Learning how to achieve timeless male multiple orgasms, expanded, and "Full-body Super Orgasms" can be a life-changing experience for both men and women. There is a new sexual health forum and a lot of information about how to have super orgasms at the website: HeartCenteredSexualHealth.com
Spiritual health / Transcendence is the essential keystone on top of the pyramid, because without a higher connection, sex can become meaningless and boring. Non-sexual events which happen throughout the day can have a huge effect on the quality of your sex life. Social relationships are one of the most important factors related to overall fulfillment. Therefore, offering a bit of kindness and generosity can help to heighten feelings of happiness, strengthen close relationships, and improve your love life.