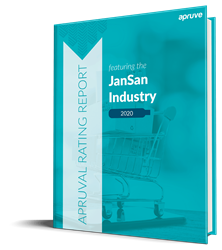 MINNEAPOLIS (PRWEB) October 06, 2020
The Jan/San report put 75 cleaning product eCommerce sites through a thorough rubric to find the best performers in the industry. The rubric covers the overall performance as well as meeting B2B needs, marketing, and user experience.
This year's report shows how the industry has changed from 2019, covering new online stores and outlining how companies have increased or decreased their eCommerce industry ranking.
"2020 shows a dramatic shift in online performance, that has been further accelerated by the pandemic," says Matt Osborn, Director of Marketing, Apruve. "We saw a tremendous amount of online stores add functionality to better meet the needs of their new and existing customers. By releasing this research, we hope to show the digital shift in the industry and help businesses create a solid eCommerce strategy."
The industry report includes some key industry statistics:

7% of vendors offer clear volume pricing to promote large purchases
25% allow for bulk search functionality for quick re-ordering
8% offer a mobile app for improved user experience on tablet and cellular devices
5% create video content for their products
While the largest retailers in the space, such as Staples and Office Depot, are some of the top performers. Smaller businesses have also increased their digital marketing and site functionality to offer very similar performance in the online space.
For the full report, including case studies and key industry statistics, please visit: https://apruve.com/apruval-rating-reports/jan-san-industry-2020
About Apruve
Apruve makes extending net terms to your business buyers as easy as accepting a credit card. Companies that streamline their B2B payments with Apruve recognize larger average order size and higher order frequency while also improving customer experience, reducing payment risk, and automating payments & collections.