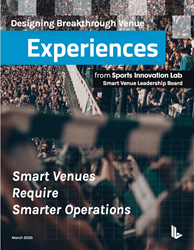 We must all rise to the challenge of creating venues where people are willing to spend the time, money, and effort to experience the power of togetherness
BOSTON (PRWEB) March 10, 2020
As the industry braces for a barrage of sporting event cancelations and a massive decline in event attendance in response to the spread of COVID19, Sports Innovation Lab has released a timely report that examines how venues - and those businesses who rely on in-person experiences to generate revenue - turn to technology and more digital expressions of togetherness to win the Fluid Fan™. The report is available for free download on the Sports Innovation Lab website.
Over the course of 2019 Sports Innovation Lab assembled their Smart Venue Leadership Board, a panel of senior executives and thought leaders from across the smart venue ecosystem, to develop this report. Along with the Lab's proprietary research the board evaluated case studies, reviewed best practices, and provided personal accounts of success and failure to inform the data and generate the recommendations.
The report identified and ranked venues who were leading in critical areas key to creating breakthrough fan experiences such as Mixed Reality, 5G, Concessions Technology, and Cashless Payments.
The data points out that the venues that are truly prepared to win in the age of the Fluid Fan are also reorganizing and rethinking their internal operations to keep up with the pace of change. In the report 4 specific requirements for operating smart are identified:
1. Use crowd intelligence to understand Fluid Fan behavior. Demographic data stops at WHO fans are. It's time to understand the context of their visit and WHAT they want to do.
2. Develop a partner ecosystem. Venue operators need to review and analyze their current partnership ecosystem to identify the high value and complementary services they should invest in, and find gaps where new partners are required.
3. Build venues that are attractions beyond gameday. Respond to shifting fan interest by planning for mixed-use facilities and year-round operations.
4. Organize internally for agility. Optimize staffing structures to be fan-focused, including cross-functional fan experience teams.
"There is a real urgency to change how we operate live sporting events," said Sports Innovation Lab CEO, and four-time Olympic medalist, Angela Ruggiero. "We must all rise to the challenge of creating venues where people are willing to spend the time, money, and effort to experience the power of togetherness."
The board members and industry leaders who contributed to this report include:
Angela Ruggiero, CEO, and Co-founder of the Sports Innovation Lab
Josh Walker, President, and Co-founder of the Sports Innovation Lab and Board, Co-chair
University of Michigan, Dr. Judith Grant Long, Associate Professor of Sport Management and Real Estate, Co-chair
The Goldwater Group, Bobby Goldwater, President of The Goldwater Group and adjunct professor with Georgetown University, Co-chair
Aramark, Kevin Pelegrin, Vice President, Insights & Analytics
Armored Things, Julie Johnson, CEO
CLEAR, Ed O'Brien, Head of Sports - Business Development and Partnerships
Fancam, Tinus Le Roux, Founder & CEO
IOC, Xavier Becker, Head of Venues, Infrastructures & Services
JMA Wireless, Kurt Jacobs, Director, Markets and Solutions
Legends, Mike Morris, Chief Information Officer
Oak View Group, Dan Griffis, President, OVG Global Partnerships
Oracle Food & Beverage, Jennifer Dorta-Duque, Global Director of Sales Consulting, Sports and Entertainment
ROSSETTI, Matt Rossetti, President
The Dow Chemical Company, Mike Reed, VP of Olympics and Sport Solutions
Satisfi Labs, Courtney Jeffries, COO
TD Garden, Jen Compton, VP of Innovation & Brand
Venuetize, Craig Duncan, CRO
Visa, Andres Polo, Global Head of Innovation & Strategic Partnerships Marketing
The Sports Innovation Lab is kicking off their 2020 Smart Venue Leadership Board later this month, which will continue to build on their findings from this report, and place an even greater emphasis on how venues must adapt to survive in the current industry climate. Invited members will be tasked with thinking creatively about how the venue operates as a media platform and harnesses all the digital screens and faster mobile networks to unlock new revenue.
Sports Innovation Lab will continue to push the industry forward with a brand-new set of 2020 Leadership Boards, which will further utilize Sports Innovation Lab's market intelligence software and proprietary research to explore topics such as technology requirements for broadcast integration, team & league fluency with new technologies, innovation in data collection, and new best practices.
The executives on the Smart Venue Leadership Board join an exclusive roster of thought-leaders from three other leadership board initiatives started by the Sports Innovation Lab: The Athlete-Driven Media Leadership Board, The Next-Generation Sponsorship Leadership Board, and The Immersive Media Leadership Board. Companies represented in those boards include: DraftKings, Kinduct, MediaLink, MGM, NASCAR, NHL, NFLPA, Octagon, Panini America, ShotTracker, Titletown Tec, Veepio, UFC, Wave, Whoop, World 1 League, Octagon, Intel Sports Group, LiveLike, Yahoo Sports, Cox, Drone Racing League, Dow Jones Sport, Double Seven Sports, Nikkei America Inc., the Bundesliga, Columbia University, Athletes Unlimited, Blinkfire Analytics, Brizi, Cisco, Coca-Cola, FIFA, the LA Rams, MasterCard, Nielsen Sports, Octagon, Promethean TV, Rover, Spartan, the Vegas Golden Knights, and Visa.
About Sports Innovation Lab:
Sports Innovation Lab is leading a sports research revolution. We exist to educate our clients on the technological possibilities for their brand and how to ultimately drive value to the end consumer: the Fluid Fan. We inspire brands to create breakthrough fan experiences through data-driven technology insights and industry-leading research. Learn about how to work with us here.