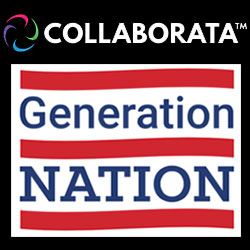 With so many of life's previous unknowns behind them, Baby Boomers are worrying a lot less—at least on a daily basis—than those who are younger.
CHICAGO (PRWEB) December 18, 2018
Stress is affecting the younger American generations—particularly Gen Z, those aged 13-21—more so than other cohorts. A soon-to-be released study has found significant disparities when it comes to how each generation experiences stress.
Nearly one third of Gen Z (32%) say they are "very" or "extremely" stressed, according to the study, Generation Nation.
Among the other three generations, Millennials (24%) are the next most stressed, eight percentage points less so than their younger counterparts, followed by Gen X (22%), and the least stressed group, Baby Boomers (13%).
Generation Nation, conducted in partnership by three research firms and several large brands and not-for-profit organizations, surveyed 4,150 respondents, selected to be representative of the four generations. The research was conducted this summer; the findings are being analyzed for a November 15 release.
Gen Z struggles the most with depression and anxiety with fully 41% of this youngest generation saying they experience either of these ailments. It's no surprise then that more members of this generation (18%) say they have seen a mental-health professional in the last year than any other group. Suicide now currently ranks as the second-leading cause of death for young people aged 15-24 and the third leading cause of death for children aged 10-14, according to the Centers for Disease Control.
A full one-fourth of Boomers report not being stressed at all, which is nearly half the percentage of the next least-stressed generation, Xers. And, fewer Boomers (20%) compared to those younger, struggle with depression and anxiety.
As explained by Michael Wood, principal of 747 Insights, one of the research firms behind Generation Nation, "With so many of life's previous unknowns behind them, Baby Boomers are worrying a lot less—at least on a daily basis—than those who are younger." He pointed out that many Boomers have raised their families and paid off mortgages and kids' college tuitions. Careers are settled, and many are about to, or already have, retired. Wood also pointed out, "Boomers grew up without the looming presence of social media, which plays a significant factor in youth stress."
"The widespread level of stress reported by Gen Z is really concerning," Wood added. "Although stress is a normal part of growing up, we've never seen a generation experiencing such a high level of emotional struggle."
Benjamin Graham of Collaborata, who was one of the research analysts on Generation Nation, said, "Even though Gen Z is more socially connected than any previous generation, that interconnectedness has shrunk their world, leaving them often feeling isolated and lonely while often lacking the experience or expertise of face-to-face social interaction."
One of the young Gen Z respondents to the survey explained that his generation is "stressed about real problems and not over how many likes our selfies get on Instagram. We are not too stupid to think for ourselves just because we have the Internet."
According to Generation Nation, 30% of Gen Z say they worry about being lonely, almost twice the percentage of Boomers (18%).
Mr. Wood, co-founder of 747 Insights, partnered with Collaborata, the market-research marketplace, to launch Generation Nation. To add a qualitative dimension to the study, Quester, a consumer-intelligence firm that leverages artificial intelligence to gain deeper insights from research studies, joined the research team for this year's study.
Generation Nation surveyed respondents across eight distinct subject matter areas: Money & Spending; Family & Relationships; Technology & Media; Education & the Workplace; Health & Wellness; Politics & Social Issues; Life & Psyche; Generational Narrative.
"Gen Z is growing up in a time when ambition and success are highly valued. Getting into college gets harder every year, while ignoring outside noise online becomes more and more challenging. They feel pressure and are really struggling with how to cope," said Collaborata's Graham. "Even though many look totally fine when they're tapping away on their phones, there's a lot of internal turbulence that gets overlooked."
About Generation Nation: Generation Nation is a far-reaching annual study that provides insights and data to help brands and organizations better understand and connect with the four largest US generational cohorts: Generation Z (born 1998 or later), Millennials (1981 – 1997), Generation X (1965 – 1980) and Baby Boomers (1946 – 1964).
About Collaborata: Generation Nation is available for purchase exclusively on Collaborata, which is the first global platform connecting research buyers in order to crowdfund research conducted by subject-matter experts. Founded in 2016, the firm has already launched close to 100 critical research studies by bringing the sharing economy to marketing research. Clients included world-class brands, top marketing agencies, and innovative NGOs. To learn more, visit http://www.collaborata.com.