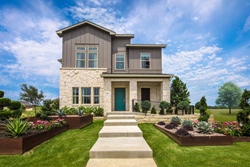 "Goodnight Ranch is offering a mix of reasonably priced homes and apartments making easier for folks to call Austin home."
AUSTIN, Texas (PRWEB) August 28, 2018
Today, Goodnight Ranch announced the details for several exciting new developments underway in the 700-acre community, which will expand the diversity of housing options and amenities for residents and Austin as a whole. Since opening in 2017, Goodnight Ranch is home to more than 100 residences, and construction is currently underway on the second section of single-family homes, as well as the community's new amenity center. Three new residential projects have also broken ground in Goodnight Ranch – including the first affordable housing component, townhomes, and an active senior community – which expands the variety of home options available to meet the needs of more people in different stages of life and lifestyles.
"We are pleased with how Goodnight Ranch is thriving, and all the exciting developments under construction that will provide our residents with a variety of home options ranging in size and price," said Myra Goepp, VP of Benchmark Land Development. "Goodnight Ranch is offering a mix of reasonably priced homes and apartments making easier for folks to call Austin home. We are eager for many of these flexible housing options to be available as soon as Fall of 2018 bringing the new additions to our colorful, nature-loving and tranquil neighborhood we call home".
New residential developments in Goodnight Ranch include:
Commons at Goodnight
Earlier this year, LDG Development broke ground on Commons at Goodnight, a multi-family affordable housing complex under construction at 2022 E. Slaughter Lane. Slated for completion in Summer 2019, Commons at Goodnight will offer one to four-bedroom units ranging from 727– 1,703 square feet, available for residents whose income does not exceed 60% of area median income (AMI). The complex will also feature its own private pool, library, and clubhouse, and will also offer various social services for residents free of charge.
Townhomes by Avi Homes
Since June of this year, Avi Homes has had duplex units available at Goodnight Ranch on 55' lots throughout the community, and earlier this year they've also begun work on their specialty townhome product, located off Slaughter Lane near Vertex. Ninety townhome units will be available for purchase within 4 to 5 different complexes, with two and three-bedroom options available. Units will feature 9' ceilings on both floors, ceiling fans in the master and living room, marble built in vanities with chrome faucets, and a professionally landscaped backyard. Sales will begin in Fall 2018.
Nightingale at Goodnight
Under construction south of Onion Creek Park on the corner of Nuckols Crossing and Vertex Boulevard, Nightingale at Goodnight is a mixed-income development for active seniors. The proposed design incorporates 174 units within a three-story elevator-served building, surrounded by single story cottages, some of which have attached carports. Bordered by parks and greenbelts, Nightingale at Goodnight offers their active residents places to get out and enjoy the outdoors, as well as access to the property's private fitness center, community room, auditorium, library and swimming pool. Nightingale at Goodnight expects construction to be complete in Summer 2019.
Beyond these additions to the architectural environment, work has continued on greenspaces within and adjacent to Goodnight Ranch. The community itself is home to more than 120 acres of greenspace, and borders Onion Creek Metropolitan Park. This fall, the City of Austin will complete improvements to the first 50 acres of Onion Creek Metropolitan Park, including 30 acres of irrigated fields, 20 acres of native wild space, and 50 parking spots. Residents can enjoy full access to this vast natural landscape through trails located throughout the neighborhood that lead to open fields, pocket parks, and a three-mile hike and bike trail that connects to Onion Creek and runs by Blazier Elementary. Goodnight Ranch also features two pedestrian underpasses that run under Slaughter Lane, facilitating a walkable pedestrian environment throughout the community.
To complement Blazier Elementary and to accommodate the growing population of Southeast Austin, the Austin Independent School District has also closed on an additional site of land within Goodnight Ranch and has commenced design work for a new middle school, which will form a type of "educational village" with Blazier Elementary. AISD also has plans for a future high school. The three school sites within Goodnight Ranch will be walking distance from each other and from homes in the neighborhood.
"Our philosophy at Goodnight, and something that is integral to the master plan for this community is this live, work, play aspect," said Goepp. "Things like pocket parks, our proximity of Onion Creek, and having schools within the neighborhood itself makes this a dynamic and well-rounded place to live."
Single-family homes in Goodnight Ranch are available from Empire Communities (formally known as Centerra) and M/I Homes. For more information about Goodnight Ranch, and the homes and amenities available within the mixed-use, master-planned community, visit: http://www.liveatgoodnight.com.
About Goodnight Ranch
Goodnight Ranch is a mixed-use neighborhood set to transform a former dairy farm in southeast Austin into a vibrant, walkable, tree-lined urban hub. The 700-acre site will be developed over 10 to 15 years and is expected to include up to 3,500 homes; a mixed-use town center; three AISD schools; 226,000 square feet of retail space; more than 120 acres of open space; and landscaped streets designed to integrate a safe network of bike paths, trails and sidewalks. The first phase of the project, the northeast quadrant, is adjacent to Slaughter Lane and includes a mixture of yard homes and condominiums, a community park, and Blazier Elementary School and a future middle school site. For more information, visit http://www.liveatgoodnight.com.
About the Builders:
LDG Developments
LDG Development is an award-winning multi-family housing developer and owner whose passion for affordable housing is evident in the gold-star quality of their apartment homes. With the mission to give hard-working families a community where they can thrive, LDG Developments is motivated by the belief that everyone deserves a better standard of living despite their income.
Avi Homes
As an innovator in the home building industry since 1978, Avi Homes approaches every build like it is the only one they are building. Avi Homes count on the quality of their homes and the families that live in them to attest to their reputation as an extraordinary builder. Their mission is to build and sell quality homes through a partnership with professional local sub-trades and land developers, to create long-lasting communities that their customers can be proud to call home.
DMA Companies
DMA Companies develops and manages top notch, mixed-income, mixed-use communities that provide affordable housing opportunities to working families and those age 55 and older. DMA designs with intent and thoughtfulness to ensure that its communities are of the highest quality with amenities and services appropriate to the residents they serve.