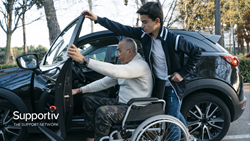 Being a caregiver requires massive internal strength, but you can't be expected to maintain your strength without support of your own.
BERKELEY, Calif. (PRWEB) September 08, 2021
Forty-three percent of all US adults are caregivers, and almost half care for more than one person at a time. While caregivers focus on the needs of others, they are taxed by their own specific emotional struggles. Caregivers complete both physical and emotional labor on a daily basis, causing them to experience a twenty-six percent greater impact of physical and mental health conditions than the average population.
Caregivers may be life partners, children of aging parents, parents, teachers, nurses or aides, paid or unpaid, formal or informal, young or aging themselves. Across the diverse range of caregiver roles, a common theme is the compromise between their own needs, and the needs of someone else who is dependent on them.
Maintaining caregiving responsibilities shows empathy, and caregivers can also show self-love by taking care of themselves: "I want to be able to help you as much as possible, so I need to do X-Y-Z for myself right now." In a caregiving role, that can translate to setting boundaries, applying for financial assistance, cultivating pride, defusing conflict, or finding a realistic way to take a break–however small.
Supportiv's new Caregiver Collection of articles seeks to meet caregivers where they are, providing tools to create emotional change for the better, either within themselves, or together with the person for whom they're caring.
Supportiv, the digital peer-to-peer support network, has collaborated with experts including Alexandra Drane of ARCHANGELS and C. Grace Whiting J.D. of the National Alliance for Caregiving, to provide practical insights on how to face the seemingly impossible struggles caregivers face–often without someone to care for them. Article titles from the new resource collection include:

Unpaid Caregivers: Easing Financial And Emotional Burdens
Instead Of Being Young And Carefree, I'm A Caregiver. How Can I Be Both?
Things You Think You Can't Say As A Caregiver
The Impact Of Caregiving On Your Physical And Mental Health
Maintaining Your Boundaries As A Caregiver: Go From Guilt To Glow
Caregiver In Need Of Help? Here Are Some Options
Courageous Caregivers: Being Proud Of Your Role
Caregiving For Your Significant Other: Surviving The Tension
Providing Care For An Aging Parent: Navigate A New Dynamic
Caregiver Burnout: Avoid It, Or, Rise From The Ashes
When The Person You Care For Refuses Professional Help
Caring For Someone Who Is Vocally Ungrateful
Helena Plater-Zyberk, Supportiv CEO and Co-Founder, reflects on the emotional catch-22 which many carers face:
"At various points in our lives, each of us may be called upon to devote ourselves to the care of a loved one. Being a caregiver requires massive internal strength. You can't be expected to maintain your strength without support of your own."
Supportiv Co-Founder Pouria Mojabi explains his drive to make these perspectives available to as many people as possible:
"In addition to unpaid caregivers who take care of loved ones, there are also thousands of paid caregivers nearing the breaking point. Burnout, financial stress, and compassion fatigue are real risks among the caregiver population."
Relevant Supportiv articles and tips also surface in real-time inside its 24/7 peer support chats. By typing a few words in response to the question: "What's your struggle?" users are matched in under a minute to topic-specific peer-to-peer group chats for anonymous support – from pandemic burnout to virus anxiety, from relationship drama to isolation, and from trauma to depression. Even experiences regarding objectification, culture, stigma, and shame are up for discussion in Supportiv's anonymous peer support chats.
Supportiv has already enabled over 700,000 users to feel less lonely, anxious, stressed, misunderstood, and hopeless through its moderator-guided chats with AI-driven content and resource recommendations. The peer support network is available instantly at https://www.supportiv.com.