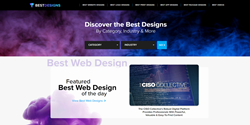 NEW YORK (PRWEB) November 12, 2019
Marketers and designers know that the best way to learn about the latest trends and implement them in their own professional designs is to continually research other designs for inspiration and brand-new techniques.
BestDesigns.co, a new online resource for designers and marketers, showcases the best designs for website, logo, print, app, package, and video, making that research even easier.
Users can notably filter designs by types, styles, industries and more. This allows them to discover inspiration for their upcoming campaigns and creations.
In addition to showcasing the designs themselves through high-resolution images, GIFs, and videos, BestDesigns.co also provides an in-depth analysis of each design.
This analysis highlights the best features, why they are so successful, the benefits each brand reaped from the design itself, and more.
By providing multimedia and written explanations of the best designs from around the world, designers, user experience experts, marketers and other professionals who are looking for inspiration can quickly and easily identify design elements that may work for them and the results they can expect to achieve.
BestDesigns.co is particularly helpful in the creation of:

Websites
Branding campaigns
Print marketing campaigns
Ad campaigns
Product packaging
Mobile apps
And more!
To try BestDesigns.co, visit the site at BestDesigns.co
About BestDesigns.co: BestDesigns.co is an online resource that features the best website, logo, print, app, package and video designs from around the world.
Users can search and filter by type, industry, style and more to find renowned inspiration for website designs, branding campaigns, marketing initiatives, and more.