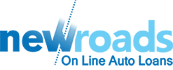 "The average car buyer in America spends nearly 70% of his or her car buying experience researching all the different information online."
IRVINE, Calif. (PRWEB) September 14, 2020
New Road Auto Loans has announced the release of their most recent infographic: The Do's and Don'ts of Purchasing a vehicle. The infographic serves as a guide to ease the car buying process.
The infographic breaks down the shopping process, from researching the potential vehicle, to signing the papers. It provides examples of how to and how not to handle each step.
According to New Road Auto Loans, "The average car buyer in America spends nearly 70% of his or her car buying experience researching all the different information online."
The infographic provides helpful information for potential car buyers, so that they can walk away with the right vehicle for them.
To learn more about the process of purchasing a vehicle, view the infographic here.
About New Road Auto Loans:
At New Roads, we know that credit problems can happen to good people. But we also believe that having a late model car is essential to modern life, and that credit problems shouldn't keep you from getting a good car or truck. That's why we specialize in giving auto loans to people with credit problems. If you have bad credit and are concerned about qualifying for an auto loan, don't worry. New Roads is backed by Consumer Portfolio Services (CPS) , we've financed over 900,000 vehicles since 1991 for consumers with credit problems.