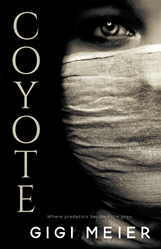 "As Maximiliano represents her past, Carlos is her future," Meier said. "However, trusting someone new is scary, a feeling I believe many readers may relate to their reality."
HOUSTON (PRWEB) February 20, 2023
From a corporate professional of 30 years to a confessed romance novelist, author GiGi Meier is using her writing skills to present a tale that may leave readers on the edge of their seats in her new action-packed romance novel, "Coyote."
In the book, readers meet Sammie Smith, a woman and humanitarian, desperate to escape the clutches of sex traffickers with six teenage girls she rescued. When her mission goes awry, she seeks help from the most unlikely source, Maximiliano Maldonado, a powerful drug lord she left five years ago who is now seeking revenge on her.
"Sammie can't trust him," Meier said. "She knows his intentions are self-serving, resulting in her being kidnapped and placed in a new location. It isn't until she's introduced to Carlos Mendez, a former marine turned private security for the Maldonado cartel assigned to guard Sammie, that she begins to have hope."
Carlos Mendez is a man who lives in the shadows of his grief and no longer values his life. Hired to guard the drug lord's newest captive, he soon begins to take his riskiest assignment, falling for someone who has unlocked the doors to his heart. Through a chance encounter, Mendez discovers a deep connection with Sammie, a woman who understands him on a level he never thought possible, leading both characters to balance love against duty in a life-or-death situation.
"As Maximiliano represents her past, Carlos is her future," Meier said. "However, trusting someone new is scary, a feeling I believe many readers may relate to their reality."
Meier understands that life may be overwhelming. However, through the love story of Sammie and Carlos, readers may learn how not to lose hope, as conditions are temporary. She hopes that her readers will dive into a world where they can be the main character of their story and feel the emotions her characters evoke.
"Coyote"
By GiGi Meier
ISBN: 9798765231982 (softcover); 9798765231975 (electronic)
Available at Author Website, Amazon and Barnes & Noble
About the author
GiGi Meier retired from a 30-year career in Corporate America to pursue her career as a romance novelist. She loves telling stories and figuring out why her characters do what they do. With heartbreaking angst, her stories linger long after a reader closes their book. When she's not writing, she enjoys spending time in the pool with her children, walking her dogs, and filming videos for Instagram and TikTok. She currently resides in Houston, Texas. To learn more, please visit https://www.gigimeier.com/.
General Inquiries:
LAVIDGE – Phoenix
Taylor Moralez
tmoralez@lavidge.com
480-306-6597