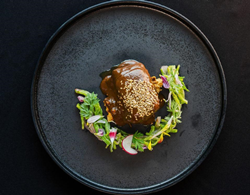 the new offering provides an exclusive look into culinary traditions from five regions in Mexico: Jalisco, Michoacan, Durango, Chihuahua, and Oaxaca
PUERTO VALLARTA, Mexico (PRWEB) December 10, 2020
Beginning January 2021, travelers visiting Casa Velas in Puerto Vallarta can embark on a culinary adventure across the country with the boutique hotel's new 'Sabores de México' tasting experience. Led by Executive Chef, Isaac Esparza, the new offering provides an exclusive look into culinary traditions from five regions in Mexico: Jalisco, Michoacan, Durango, Chihuahua, and Oaxaca. The curated tasting menu is available at the hotel's Emiliano restaurant, surrounded by native fruits and vegetables in its botanical garden, or oceanfront at its luxury Beach Club. Highlights of the different dishes consist of popular Mexican ingredients such as corn, coriander, mole, and mezcal. Specialty cocktails made from lesser-known Mexican spirits such as Sotol, Charanda, and Pulque complement Mezcal and Tequila as complements to specific dishes.
The first dish served off the curated menu is tuna tlayuda with serrano pepper rings, creamy avocado, peeled orange slices, coriander leaves, and maguey salted worm paired with an Ometochtli cocktail with Pulque; Next, a citrus and fresh berries green salad with "palanqueta" peanuts, mint vinaigrette and bittersweet chocolate sauce is paired with a Raramuri Sunset cocktail with Sotol. The following dish is a corn gordita filled with octopus and pork with green sauce, avocado, fresh cilantro and cured onions served with a Sangre Cora cocktail with tequila. Then, guests will enjoy a Pastor-style salmon served over avocado mousse with grilled pineapple salad, red wine onions, and pineapple purée paired with a mezcal-based Oaxaca in the bar cocktail. Lastly for dessert, guests will be indulged with chocolate mousse with "mole" sauce and nut powder paired with Café de Olla with Charanda.
Reminiscent of a Spanish hacienda and just 5 minutes from Puerto Vallarta International Airport, the luxury all-inclusive property features 80 spacious suites, some with private pools and Jacuzzis. Nestled on the greens of Marina Vallarta's 18-hole golf course, Casa Velas features deluxe amenities and inclusions such as:

discounted golf;
rejuvenating spa treatments at ABJA Spa;
unique wellness experiences and private workout classes;
international cuisine from one of the area's leading chefs;
and more.
Special offerings exclusive to the resort include its handbag bar where guests can enjoy use of a "loaner" designer handbag at no extra charge, a botanical garden where guests can hand pick ingredients for cocktails and their personalized menus, among others.
Velas Resorts have received the global safety stamp of approval from the World Travel and Tourism Council (WTTC) due to its state-of-the-art safety and cleanliness protocols detailed in a 15-page Stay Safe with Velas program. Sanitizing mats and booths, touchless hand sanitizing dispensers, increased cleaning and sanitation with both EPA-chemicals and UV light, and special COVID-19 training for staff are examples of protocols being implemented by the resort collection.
The Sabores de México tasting costs $150 USD per person. Guests must book the experience at least 72 hours prior to the event. All-inclusive resort rates start at $221 per person per night based on double occupancy. At Casa Velas, luxury accommodations, gourmet meals, premium liquor and wine, 24-hour suite service, use of the fitness center facilities, WIFI, taxes, and gratuities are included in the nightly rate. With a minimum booking of 70 suites and a minimum stay of 4 nights, the nightly buyout rate is $49,420 USD per night. For more information on Casa Velas, please call 1-888-407-4869 or visit http://www.hotelcasavelas.com.
About Casa Velas
Casa Velas is a luxury all-inclusive boutique hotel with pool and Beach Club for adults only in Puerto Vallarta. Reminiscent of a Spanish hacienda, the hotel features 80 spacious suites, some with private pools and Jacuzzis. Nestled on the greens of Marina Vallarta's 18-hole golf course, this Puerto Vallarta hotel offers guests a 25% discount on green fees. Its serene, exclusive setting provides an ideal backdrop for a Puerto Vallarta wedding ranging in size from 2 to 300. ABJA Spa encompasses treatment rooms for singles and couples, a hydrotherapy area, garden-view fitness center equipped with state-of-the-art exercise equipment, and a beauty salon. A novel service is a handbag bar where guests can enjoy use of a "loaner" designer handbag at no extra charge. Emiliano restaurant is in the hands of one of the area's leading chefs serving Mexican and international cuisine. Eduardo Vela Ruiz, founder and president of Velas Resorts, operates Velas Resorts with brother Juan Vela, vice president of Velas Resorts, by his side. Explore tips, recipes, lifestyle and travel trends, and the latest news about Velas Resorts on the digital mag: https://velasmagazine.com.