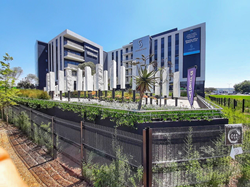 Penetron has worked with L&S Consulting and ABLAND & Tiber in the past on various projects throughout the Gauteng region, and we continue to have great success with Penetron's crystalline technology.
EAST SETAUKET, N.Y. (PRWEB) October 27, 2020
The first phase of construction of the Sandton Gate precinct – an office, retail and residential complex located in a verdant setting of Johannesburg, South Africa – was completed in Q1 2020. The Penetron System was used throughout the development's construction to ensure durable and waterproof concrete.
A certified 5-Star Green Star project developed by ABLAND & Tiber, Sandton Gate is located in the heart of Johannesburg, South Africa's business capital, Sandton. Once all six construction phases are completed, the development will comprise four commercial buildings (offices/retail) and a mixed-use center of retail and public buildings all flanked on the south by a line of four residential buildings. The entire Sandton Gate precinct is interconnected by a network of public squares, pedestrian paths and bike paths.
"Overlooking the Braamfontein Spruit, one of Johannesburg's longest natural greenbelts, the Sandton Gate precinct will strive to be fully sustainable by implementing green building guidelines," adds Jonathan Whitehead, Penetron South Africa Senior Engineer/Tech Support. "In addition, the Green Building Council of South Africa (GBCSA) has selected the precinct as a Pilot Project for one of the first green rated precincts in South Africa!"
Protection from Groundwater and Weather
The recently completed Phase 1 construction at Sandton Gate included new office space totaling approximately 75,000 m2 (825,000 square feet), a water storage tank, elevator pits, the podium slab, and roof slab. The offices will be connected to the neighboring residential areas and precinct center which are now under construction.
Penetron South Africa consulted with the project engineers at L&S Consulting to develop a comprehensive suite of waterproofing solutions. Both the below-grade and above-grade structures needed protection from the high groundwater levels and exposure to weather across the construction sites. The application of the Penetron topical products – PENECRETE MORTAR and PENETRON – was carried out by Siyabangena Waterproofing, a Penetron approved applicator. The ready-mix supplier, Métier Mixed Concrete, provided PENETRON ADMIX-treated concrete as well.
For Below-Grade and Exposed Concrete
Because of the high groundwater encountered across Sandton and the surrounding areas, Penetron crystalline products were used to waterproof all below-grade concrete structures, including the retaining walls, foundation slabs, water storage tanks, and exposed ground floor slabs. In addition to the below-grade waterproofing needs, the roof slabs were also waterproofed with the Penetron System. As an integral solution, the Penetron System requires no conventional or secondary waterproofing systems. Sandton Gate now has durable, maintenance-free waterproof concrete structures thanks to smart integral crystalline concrete technology.
"We're excited by this large-scale development project in the heart of Johannesburg," adds Jonathan Whitehead. "Penetron has worked with L&S Consulting and ABLAND & Tiber in the past on various projects throughout the Gauteng region, and we continue to have great success with Penetron's crystalline technology."
The Penetron Group is a leading manufacturer of specialty construction products for concrete waterproofing, concrete repairs and floor preparation systems. The Group operates through a global network, offering support to the design and construction community through its regional offices, representatives and distribution channels.
For more information on Penetron waterproofing solutions, please visit penetron(dot)com or Facebook(dot)com/ThePenetronGroup, email CRDept(at)penetron(dot)com or contact the Corporate Relations Department at 631-941-9700.