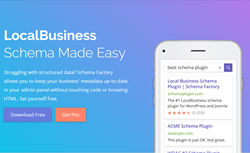 The best think about the Schema Factory schema plugin is that you don't have to know any code. Just fill in the form fields and click save.
(PRWEB) August 14, 2018
Been struggling to input schema data or rich snippet data into your WordPress or Joomla website?
Web Design and Company recently released a new schema plugin for the WordPress CMS, Schema Factory. The new schema plugin allows a user to easily add LocalBusiness schema data to a website using the WordPress or Joomla CMS (content management system) via form fields, and does not require any coding knowledge. The plugin is part of a larger planned release of plugins and is being branded under the HappiYeti product suite. The schema plugin is the first plugin released in a set of planned products to help WordPress and Joomla site owners or admins to better their SEO efforts and protect their brand. The plugin was also developed to help people optimize their sites who do not have the budget or desire to hire a marketing company. users can try the free and paid versions of the plugin here: Schema plugin for WordPress.
"Our goal is to help people improve their search engine visibility while making it easy for people to add verified local data to their website," said Web Design and Company's CEO David Kley of the newly released schema plugin. "Schema Factory is the first tool in a series, and this SEO toolset will be expanded on a monthly basis, with new and exciting launches published every month. In addition to the Free version, we have also developed a Premium version that allows a user to add in additional details about their business, including reviews, connected social profiles, and more." Schema Factory is currently split up between standard and premium, to allow a user to test the plugin before buying the full version.
The new schema plugin is big news for the St. Louis marketing agency who continually strives to find new ways to simplify the implementation of SEO. "We knew that the development of the schema plugin would create a reliable, one-stop plugin for people looking to expand their site's visibility and protect their brand without breaking the bank," said Mr. Kley on the release of Schema Factory. "When we created Schema Factory, we wanted to make it easy as possible for users (and developers!) who need to add local business schema to their site. With Schema Factory, you don't need to know any code, just fill out the form fields and click save. The plugin will automatically create the schema data for you and place it on your site. This makes it easy for people on a smaller budget to reach out, try it for themselves and learn more about the optimization process."
With the addition of the Schema Factory plugin, Web Design and Company offers over 41 different SEO tools that can be used to test, rank, and check the ins and outs of your website. The full list of tools can be found on Web Design and Company's website.
Web Design and Company is locally owned and operated in St Louis, Missouri at 3015 Salena Street, Suite 202, 63118. Both their standard and premium SEO tools, as well as, their web design and SEO services are available to businesses nationwide and globally.
For more information on the St Louis web design company and the products and services they provide, you can visit Web Design and Company's website, https://webdesignandcompany.com/.