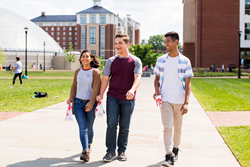 LYNCHBURG, Va. (PRWEB) September 05, 2018
Liberty University is offering the new Middle America Scholarship for first-time residential undergraduate students enrolling in Fall 2019, helping to make college education more affordable for middle-income families. Liberty is the first university in the U.S. — public or private — to design a financial assistance program in this manner.
"If a qualifying student does not receive a full federal Pell Grant, Liberty University is funding the difference," said Ashley Reich, vice president of Student Financial Services.
As higher education costs continue to rise, the scholarship will enable more students raised on working-class incomes to pursue degrees that will lead to higher-paying career opportunities. Families whose total annual income typically ranges from $35,000-$95,000 may be eligible for over $5,000 per year.
Currently, many families in that income bracket don't qualify for the full Federal Pell Grant amount, and the Middle America Scholarship will help bridge that gap. Based on each student's expected family contribution (EFC), from $1-$18,000, the scholarship will assist applicants enrolling full time in degree-seeking programs to reach the equivalent of a full Pell Grant amount allowed each year. (Program-qualifying criteria and scholarship amounts are evaluated annually and are subject to change.)
A valid Free Application for Federal Student Aid(FAFSA) must be on file for each year and eligible scholarship recipients must complete financial check-in no later than May 31 for the upcoming fall.
For more information and a full list of eligibility requirements, visit Liberty.edu/MiddleAmerica.