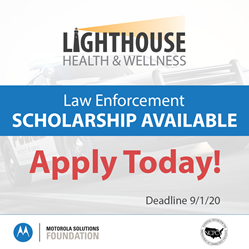 FOOTHILL RANCH, Calif. (PRWEB) August 28, 2020
The 15 scholarships being offered by NCPCV cover a one-year subscription to a customized Lighthouse Health & Wellness mobile app and web-portal. NCPCV received a 2020 grant from Motorola Solutions Foundation in generous support of this project. Motorola Solutions Foundation awards grants each year to organizations, such as Destination Imagination, which support and advance public safety programs and technology and engineering education initiatives. Scholarship information can be found at http://www.ncpcv.org/ac4p-policing-app.
"Our nation's public safety officials face significant challenges in adequately meeting their mental, physical, and emotional needs," said Joe Ramirez, Founder of Lighthouse Health & Wellness. "Large-scale resources are critically needed to effectively support law enforcement personnel and their families. We at Lighthouse Health & Wellness are proud to be part of a scholarship initiative that can have a significant positive impact on the lives of those who selflessly protect our safety," said Ramirez.
"The Lighthouse App provides law enforcement officers and their families a new level of support during a time of crisis. It contains a great deal of information as well as a confidential pathway to reach out with concerns that will lead to essential support services that could be lifesaving," said Bobby Kipper, Founder and Executive Director for the National Center For Prevention of Community Violence.
Meeting the unique needs of public safety officers and their families is a high priority for many agencies, but it can be difficult to allocate adequate resources in light of many other vital needs. The 15 NCPCV and Lighthouse H&W scholarships being offered provide public safety agencies a no-cost solution to support the wellness of their personnel. "Having a wellness mobile app that is tailored for your agency also sends a message to your employees that their department cares," said Dr. Katherine Kuhlman, Public Safety Clinical Psychologist.
About Lighthouse Health & Wellness
Lighthouse Health & Wellness is a public benefit corporation with the stated mission of ensuring that every public safety agency in the nation can provide its employees and their families with confidential and anonymous access to health and wellness resources. Lighthouse H&W accomplishes this by providing mobile app and web portal platforms that provide our nation's first responders private access to culturally competent, cutting edge health and wellness information and resources. For more information about Lighthouse Health & Wellness and their application platform call 949-305-7008 or go to http://www.lighthousehw.org.
About National Center For Prevention of Community Violence
The National Center For Prevention of Community Violence is a nonprofit with extensive experience providing evidence-based programming. NCPCV's AC4P-Policing program uses an innovative approach to providing comprehensive, culturally competent training and tools to foster wellness among public safety. For more information visit http://www.ncpcv.org.