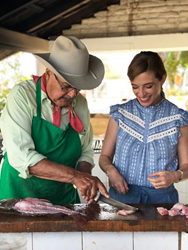 Sinaloa has an extraordinary cuisine with beloved classics and fascinating stories that are not what people expect.
WASHINGTON (PRWEB) October 02, 2019
Mexican chef and cookbook author Pati Jinich has always been on a mission to break preconceptions about her homeland. In the eighth season of her TV series "Pati's Mexican Table," premiering this week on PBS stations nationwide, she tackles one of Mexico's most notorious states, Sinaloa.
Fresh from picking up a second James Beard Award for Outstanding TV Program this year, after taking home the award for Outstanding TV Host in 2018, Jinich felt emboldened to take on a region often equated with violence and show another side to Sinaloa's story we don't hear about in the news.
"As the series has become more established, I feel I have a responsibility to take on more substantial topics and harder to tackle regions," says Jinich. "Sinaloa has an extraordinary cuisine with beloved classics and fascinating stories that are not what people expect."
It's the first time "Pati's Mexican Table" features part of the region known as "El Norte Mexicano," which is different from the rest of Mexico in terms of its ingredients and culture.
"From the moment we landed, we were greeted by warm, happy, hardworking and proud people at every stop on our journey throughout the entire state," says series director Dan Connell. "Spend some time with the people of Sinaloa and you will quickly realize that the negative news is a story, but it's not the story."
"Pati's Mexican Table" is a hybrid of travel and cooking, where Jinich uses food as a jumping-off point to dig deeper into the culture, history, and issues in each place she visits. Stretching along northern Mexico's west coast, Sinaloa is called "Mexico's breadbasket" because it produces 40% of the food for the entire country.
"It's a farmer's paradise because you have the Sierra Madre Mountains, mineral-rich rivers flowing into the agricultural fields for crops and grazing cattle, and the freshwater crashing into the saltwater on the coast," says Jinich. "You throw a seed in Sinaloa and a jungle grows."
Sinaloa's cuisine reflects the bounty of its land and coast and is a source of pride for its people. Preparations are much simpler than in other parts of Mexico; you don't find 30 to 40 ingredient moles. Instead, cooks let the quality of what nature gives them shine through.
Flour tortillas are common because wheat grows in northern Mexico, yet Sinaloa loves its corn tortillas — made from indigenous white corn — just as much. Sinaloa's long coast is packed with shrimp, which reigns supreme in the culinary landscape from north to south. Viewers will also get to know the feisty chiltepin chile, believed to be the original chile from which all the others evolved.
In Altata, a fishing village struggling with declining fish populations, Jinich eats oysters as big as your hand raised by fishermen who turned to cultivating them as a way to make ends meet, becoming a surprising success and new industry for the town. As she travels along the coast for Sinaloa's freshest seafood, both familiar and unfamiliar, in Altata and other small towns, she meets locals who are eager to invite tourists to their pristine beaches but worry about preserving the spirit and charm of the place.
High in the Sierra Madre Mountains, Jinich visits Jinetes de Machado, a tiny community of less than 100 surrounded by a nature preserve. Intentionally living off-the-grid, they not only choose to preserve traditional cooking methods, but also their land, which has endangered wildlife and pre-Colombian hieroglyphics. They want people to see these treasures and taste their preserved recipes, but it's always a push-and-pull between opening up to outsiders and conservation.
Meanwhile, in Mazatlán, Jinich encounters a city that was once a famous beach destination, nicknamed "the pearl of the Pacific," before being almost reduced to ruins during a couple of violent decades. Walking its streets and markets, as well as grabbing one after another irresistible bite with chef and Mazatlán native Luis Osuna, she sees firsthand how it picked up its pieces and is once again thriving.
She also retraces her steps from past trips to Sinaloa and rides on El Chepe Express, an iconic passenger train with a full kitchen and table service that offers stunning views of the Sinaloa countryside and the Copper Canyon. And she returns to El Fuerte, one of Sinaloa's "pueblos mágicos" or magic towns, to try cauques, a local shellfish similar to a lobster.
In another pueblo mágico, Mocorito, Jinich learns the secrets to one of Sinaloa's most beloved dishes, chilorio, from a woman who has built a successful business off her reputation for having one of the best recipes.
"Pati's travels in Sinaloa show us it is now, once again, one of the jewels of Mexico," says John Potthast, Project Executive at WETA Washington, DC. "We also explore its beautiful beaches and its abundant seafood and produce, much of which makes its way to American tables." 
Part of the reward of watching "Pati's Mexican Table" is Jinich brings the food we see her eating in Mexico back to her home kitchen in Washington, DC, where she turns it into practical recipes we can all make and enjoy.
"Pati's Mexican Table has always been about so much more than food. It's about the chefs, cooks, families, and passionate people behind the recipes and ingredients that make them memorable and meaningful," says Connell. "In our travels through Sinaloa, we were inspired by the sense of coming together and showcasing the food as a way to look forward to a future filled with possibilities. We can't wait to share their stories."
Past seasons are available for on-demand viewing through Amazon.
"Pati's Mexican Table" is a co-production of WETA Washington, DC, Mexican Table LLC, FRANK and Switchblade.
About Pati Jinich: Born and raised in Mexico City, Pati Jinich is the host of the James Beard award-winning and Emmy-nominated PBS television series "Pati's Mexican Table" now on its eighth season. She is resident chef of the Mexican Cultural Institute in Washington, DC, and author of two cookbooks, "Pati's Mexican Table: The Secrets of Real Mexican Home Cooking" and "Mexican Today: New and Rediscovered Recipes for the Contemporary Kitchen." Pati is a regular guest on NBC's "Today," CBS's "The Talk," NPR's "All Things Considered" and "The Splendid Table," and Univision's "Despierta America." She has cooked at the White House for President Obama's Cinco de Mayo celebration. The Council of the Americas named Pati one of the "Top 5 Border Ambassadors" who have performed outstanding work bringing the United States and Mexico closer together and was named one of the "100 Greatest Cooks of All Time" by Epicurious. She lives in Chevy Chase, Md., with her family.
About WETA: WETA Washington, DC, is one of the largest producing stations of new content for public television in the United States. WETA productions and co-productions include PBS NewsHour, Washington Week, The Kennedy Center Mark Twain Prize, The Library of Congress Gershwin Prize for Popular Song, and documentaries by Ken Burns and Henry Louis Gates, Jr.  Sharon Percy Rockefeller is president and CEO.
About FRANK: FRANK is a multi-faceted production company that focuses on non-scripted television and digital content. Award-winning producers Dan Connell and Pasquale DeFazio have decades of combined experience in creating and producing a variety of highly acclaimed culinary, travel and lifestyle programming.