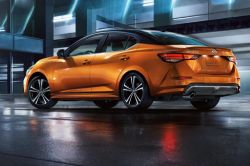 GLENDALE HEIGHTS, Ill. (PRWEB) May 22, 2023
Glendale Nissan, a trusted automotive destination, is delighted to announce the availability of the highly anticipated 2023 Nissan Sentra SR sedan. With its outstanding design and impressive performance capabilities, this latest addition to the Nissan lineup redefines the sedan driving experience.
The 2023 Nissan Sentra SR sedan combines sleek aesthetics with functional design elements, resulting in a great car. With its modern and aerodynamic exterior, highlighted by bold lines and a striking front grille, the new Sentra SR exudes an undeniable sense of sophistication and style. The carefully crafted body panels enhance the sedan's visual appeal. This also contributes to its overall efficiency and handling.
Underneath its stylish exterior, the 2023 Nissan Sentra SR boasts impressive performance features that will leave drivers exhilarated. Equipped with a powerful yet efficient engine, this car delivers responsive acceleration, ensuring quick and seamless maneuvering on the road. The advanced suspension system offers a balanced and comfortable ride, absorbing bumps and providing stability no matter the distance.
Inside the cabin, the 2023 Nissan Sentra SR offers a refined and inviting space that combines comfort and convenience. Thoughtfully designed seats provide ample support, making long journeys a pleasure. The intuitive infotainment system, equipped with a user-friendly multimedia touchscreen display, allows drivers to access navigation, entertainment and connectivity features effortlessly. This offers seamless integration between the vehicle and its passengers' digital lives.
Glendale Nissan invites sedan drivers in Glendale Heights, IL, and surrounding areas to visit their showroom and explore the remarkable design and performance of the 2023 Nissan Sentra SR sedan. The knowledgeable and friendly staff at the dealership is ready to assist customers in discovering the exceptional features and benefits of this latest sedan offering.
Buyers can log on to the glendalenissan.com website to learn about the 2023 Sentra SR sedan, Nissan deals and services available at the Glendale Nissan dealership. For a detailed discussion, they can meet the dealership team at Glendale Nissan, 484 E North Avenue, Glendale Heights, IL 60139 or contact them by phone at 630-469-6100.