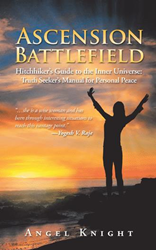 ARMADALE, Australia (PRWEB) September 12, 2019
Based on author Angel Knight's personal spiritual experiences, "Ascension Battlefield: Hitchhiker's Guide to the Inner Universe: Truth Seeker's Manual for Personal Peace" (published by Balboa Press AU) helps readers to achieve inner peace and clear spiritual confusion by bringing together ancient and modern wisdom. The book is available for purchase at: https://www.amazon.com/Ascension-Battlefield-Hitchhikers-Universe-Personal-ebook/dp/B07K2VHH9D.
Spiritual experiences are real; however, Knight believes that since people often don't can't make sense of them, so people need help to understand logically the reality of these experiences, and the truth of an inner light. Taking readers on a teaching journey of discovering their inner universe, the author demonstrates the process through her own life experience. Knight aims to bring hope and clarity to anyone who has been through emotional challenges and unexplainable experiences, and who may struggle to easily achieve lasting peace and stillness in our fast paced modern day life.
Knight hopes her book gives readers a "Sense of greater awareness, expansion of knowledge, hope, to be able to see the Universe as a part of the whole of who they are and not outside of us, feeling uplifted, inspired, satisfied and eager to move forward from a new empowered perspective."
"Ascension Battlefield"
By Angel Knight
Softcover | 5 x 8 in | 162 pages | ISBN 9781504314701
E-Book | 162 pages | ISBN 9781504314718
Available at Amazon and Barnes & Noble
About the Author
Ending a 25 year marriage and having raised five children, Angel Knight found herself having to recreate her life. She needed healing but didn't know what that meant. After many near deaths of her daughter, Knight looked for new answers not available in the standard medical world. Energy medicine and spirituality transformed Knight. A whole new life as a spiritual teacher, mentor, guide and healer evolved. Now she uses her intuitive skills and logic to guide her clients to their inner knowing.