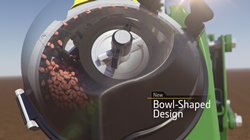 IRVINE, Calif. (PRWEB) July 16, 2019
Take decades of production know-how. Mix it with experience working in corporate marketing. Blend in a keen awareness of social media's ravenous appetite for video content. And you get Beard Boy Production's exclusive new strategy for bringing added value to your video project: Shoot & Repurpose™.
It works this way: With an astute pre-production strategy and just a bit more effort on shoot day, Beard Boy can overachieve—shooting enough footage to fit the requirements of a given script, then going beyond to capture additional interviews or b-roll of a client's people, programs, products, facilities and more. In the process, Beard Boy creates an archive of footage and production elements that can be repurposed into future videos.
Shoot, Repurpose, Rinse and Repeat
Through the company's Adsmith service, this strategy was applied to the launch of a breakthrough new product John Deere developed, a planter called ExactEmerge. Since the launch required economically reaching a wide range of audiences—using a full array of media platforms—Shoot & Repurpose was deployed.
Adsmith leveraged shot footage and repurposed existing archived elements to create Web videos, product videos, TV spots, radio commercials, trade show videos, in-dealer motion-graphic videos and 3D animations—plus varying versions for Canada, even South America and China.
By amortizing shoot and post production costs over all of these executions, the client gets more for their money—today and tomorrow.
The Beard Boy Way™
Shoot & Repurpose is part of the The Beard Boy Way™—which offers five proprietary services, strategies and processes that provide greater value to every project.
Clients like Miller Beer, Los Angeles Angels of Anaheim, John Deere, a large bank in America we can't mention by name, and Blue Cross and Blue Shields nationwide agree: Sure, Beard Boy has a silly name, but they love the seriously effective way they work.
http://www.Beardboy.com
https://www.youtube.com/user/BeardBoyProductions
info(at)beardboy.com
949-752-7113