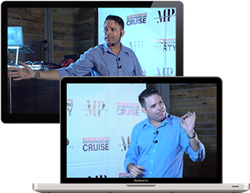 You Got This!
INTERCESSION CITY, Fla. (PRWEB) March 27, 2020
Seven Figure Flix, an Ad-Free Streaming Service Launched 02/01/2020, features entrepreneurial content to help small business owners get their businesses online through learning proven marketing secrets.
The new show launched through Seven Figure Flix, "You Got This!" Follows Sal Peer, a Parentpreneur and infopreneur on his entrepreneurial journey, and the work-life balance needed to sustain it all.
Similar to Joe Millionaire, Gary Vaynerchuk, Big Boss, and The Profit, this reality show premiering on Seven Figure Flix is set to be a whirlwind.
Over the past 15 years, Sal Peer has been working remotely, helping small businesses get on the web.
And now, anyone can gain free access and Stream online a reality show that takes you behind the scenes of an entrepreneur chasing his dreams, being a parent, dealing with the crisis, and operating multiple businesses remotely.
Sal shares his most intimate secrets on how he succeeds online.
The New American Dream or Nightmare?
Tune in and see the many challenges that lie ahead.
Learn More at:
https://www.sevenfigureflix.com
Gain Instant Ad Free Access. No Catch. No Gimmick.
Exclusive content and training programs available now.
#supportsmallbusiness
Media Contact:
Sal Peer
Attn: Media Relations
1538 Tallahassee Blvd. Unit 610
Intercession City, FL 33848
1-888-578-2485 ext:777
info@socialbrim.com
socialbrim.com