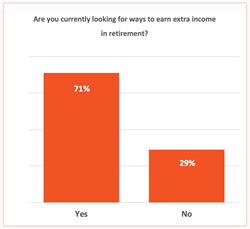 We're seeing more retirees looking at gig work, the sharing economy and other creative ways to boost their income and gain financial independence
DENVER (PRWEB) September 29, 2021
A large segment of American homeowners is uncertain about their retirement finances and actively looking for new ways to earn money in retirement, according to a nationwide study released today by Silvernest. The study also found an increased interest in homesharing among older homeowners as a means to generate passive income, gain companionship and age in place. In fact, 88% reported that they'd like to remain in their homes as long as possible as they age.
The study of homeowners ages 55-85 reveals that 49% are worried they don't have enough or know they don't have enough set aside for retirement. Women are particularly uneasy about their retirement readiness, with 53% worried or unsure about their finances, compared to 43% of men. COVID-19 has also been financially detrimental for some, with one in 10 indicating that the pandemic forced them to eat into their retirement savings.
Many Working or Seeking To Work in Retirement
A large segment of retirees is still working part time, presumably to maintain a sense of purpose as they age or to make up for retirement savings shortfalls. While 34% of those surveyed are fully retired, 27% report that they are holding down part-time jobs in retirement. Additionally, a sizeable 71% said they are actively seeking ways to earn extra income in retirement. This is surprising, considering that just one-fifth expressed an interest in pursuing an encore career.
"Longevity is at an all-time high, which means retirement periods are now upward of 20 or 30 years. That's not something people anticipated when they were younger, so we're seeing more retirees looking at gig work, the sharing economy and other creative ways to boost their income and gain financial independence," said Silvernest President Riley Gibson.
Interest in Homesharing Swells, Driven by Economic Need and Companionship
One means to earn extra income and save in retirement—homesharing—is seeing heightened interest. The study found that older homeowners are increasingly open to homesharing as a way to generate supplementary income, benefit from the companionship and remain in their homes as long as possible as they age.
Of those surveyed, 10% reported that they have been in a long-term homesharing arrangement in the past five years. However, nearly half (44%) said are open to the idea of homesharing and 26% said they are more likely to consider it now than they were five years ago.
A large percentage also has the ability to leverage their homes as assets through homesharing, with 50% indicating they have extra space in their homes that could be rented out. This correlates with a finder.com analysis of U.S. Census data suggesting there are 33.6 million spare rooms across the country.
Among those who have homeshared, most found the extra income and companionship to be the top benefits, cited by 90% and 55%, respectively. Splitting chores and peace of mind were also called out as important benefits by more than one-third of respondents. Those yet to homeshare ranked income as their top perceived benefit, with help around the house ranking second, companionship third and peace of mind fourth.
"The nice thing about the extra income that can be generated through homesharing is that it's passive income, so you're earning without having to put much effort into it, plus splitting household bills with someone," said Gibson. "That said, our study shows the potential payoffs go far beyond these financial perks. Companionship is also viewed as a major benefit, partly because the number of solo agers is on the rise, but I also believe it's because we've all experienced the pain of social isolation in recent months."
Altruism and Age Factor Into Willingness To Homeshare
Among the 44% who would consider homesharing, altruism and affinity play significant roles. More than three-quarters are open to homesharing with nurses, teachers, essential workers and/or Service Year members. And while 80% are willing to rent to a younger housemate, only 33% would consider renting to someone older than themselves, suggesting that ageism still presents some barriers in homesharing situations.
How Homeowners Would Use Homesharing Income
Silvernest data shows that homeowners can earn an average of $10,000 a year from renting out unused space in their homes. Those surveyed were split in how they would use that regular income. One-quarter would allocate it to general living costs, 16% would use it to pad their retirement savings, 11% would put it toward mortgage payments, 9% would pay bills and 5% would make home modifications. Thirty-two percent noted that they would use it in other ways, potentially indicating a desire to use it for more wants vs. needs.
Among Housing Options, Aging in Place Most Attractive
The study also looked at housing options and preferences and found a large majority (79%) of homeowners are looking to remain in their homes as they age. Approximately half are considering downsizing, 36% are considering retirement or age-restricted communities, and 31% are interested in "village" communities. However, there is also a good deal of uncertainty, with 36% saying they're still trying to figure out a plan. Living in an assisted living facility or nursing home ranked at the bottom of the list.
Home Modifications Challenge Those Wanting To Age at Home
Despite the strong desire to age at home, about half don't feel prepared to do so. Fourteen percent indicated that major modifications would be needed, and another 29% said they're either not ready or they're unsure if they're ready. On the other hand, one-quarter say they are prepared right now, and 32% only need to make minor modifications.
The full report can be accessed at: https://f.hubspotusercontent00.net/hubfs/2448101/Silvernest%20Study_Aging%20in%20Place%2c%20Retirement%20and%20Homesharing.pdf
The survey was conducted online in June and July 2021 through a third-party survey platform. The 305 participants are homeowners ages 55-85 who are not Silvernest users. Respondents represented a cross-section of incomes, U.S. Census regions and education levels.
About Silvernest
Silvernest was created to change how we can live by delivering the many benefits of homesharing (independence, housing choices, financial wellness, powerful social connections) at scale through an all-in-one online homesharing platform. Features include roommate matching via a proprietary compatibility algorithm, in-app messaging and background screens, a lease creator, rent auto-pay, insurance and an online hub of resources and tools. To date, we've helped homeowners and renters recognize over $50 million in rent income and savings by homesharing with a compatible roommate. Visit us at http://www.silvernest.com, read our blog and follow us on Facebook and Twitter.