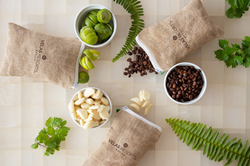 Guests and staff will be asked to smell a sachet, a small perfumed cloth pouch, and identify the particular scent. The sachets are one of three distinctly different scents: garlic, coffee, or citrus
PUERTO VALLARTA, Mexico (PRWEB) August 13, 2020
Velas Resorts in Mexico is now implementing a new safety measure for guests and staff to help detect probable cases of COVID-19. In a recent study by King's College London, it was revealed that there are six distinct "types" of COVID-19, each distinguished by a particular set of symptoms. Across all six "types" there was a consistent symptom: loss of smell. The new safety precaution at Velas Resorts targets this particular symptom by testing travelers' sense of smell. This measure is in addition to frequent health and temperature checks for both guests and staff.
Before entering the resort compound, guests and staff will be asked to smell a sachet, a small perfumed cloth pouch, and identify the particular scent. The sachets are one of three distinctly different scents: garlic, coffee, or citrus. By requiring guests and staff to smell and identify the sachet, it will reveal if they exhibit any smell-sensory loss. Guests will be expected to participate in this test upon arrival and staff must also participate in the test before beginning their workday, as well as before leaving their homes.
Along with this new safety measure, Velas Resorts is continuing with their comprehensive 'Stay Safe with Velas Program.' The health and sanitary protocols for both guests and staff members adhere to standards dictated by the World Health Organization and the government of Mexico. Examples of protocols being implemented by the resort collection include:

frequent health and temperature checks for both guests and staff;
sanitizing mats and booths;
touchless hand sanitizing dispensers;
increased cleaning and sanitation with both EPA-chemicals and UV light;
special COVID-19 training for staff;
and more
To further decrease in-person contact, the resort collection launched new features on the Velas Resorts' mobile app. A Concierge chat and restaurant and spa menus as well as pre-registration for fitness classes and other resort activities are some of the offerings.
For reservations or more information, call 1-888-407-4869, email reservations@velasresorts.com or visit https://www.velasresorts.com.
About Velas Resorts
Velas Resorts in Riviera Maya, Puerto Vallarta, Riviera Nayarit, and Los Cabos have earned 56 AAA Diamonds, including the prestigious Five Diamond Award. Other esteemed international awards for services and facilities include Virtuoso's Best Family Program, Forbes Travel Guide Five Star Award for spa, and TripAdvisor's Top Hotels in the World, among others. Offering unparalleled all-inclusive experiences, properties include Grand Velas in Los Cabos, with dramatic ocean views and unique spaces infusing every area of the resort; Grand Velas Riviera Nayarit, which enjoys a long stretch of pristine beach and a dramatic backdrop of the Sierra Madre mountains; and Grand Velas Riviera Maya, offering a sophisticated resort experience in the Caribbean with jungle and beach settings. In Puerto Vallarta, Casa Velas is a boutique adults-only hotel and beach club located on the Marina Vallarta Golf Course, and Velas Vallarta, a family-friendly all suites resort and spa located on Banderas Bay. Mar del Cabo, a boutique hotel on Mexico's Baja Peninsula, opened in December 2018 as its only European Plan offering. Eduardo Vela Ruiz, founder and president of Velas Resorts, operates Velas Resorts with brother Juan Vela, vice president of Velas Resorts, by his side. Explore tips, recipes, lifestyle and travel trends, and the latest news about Velas Resorts on the digital mag: http://www.velasmagazine.com.