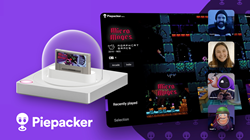 Piepacker provides a fun way to interact. This innovation is at the forefront of transgenerational pop-culture; mixing gaming, video chat, 3D filters and masks in augmented reality. It's exciting for everyone
SAN FRANCISCO (PRWEB) March 30, 2021
Piepacker, the new free social gaming platform that allows users to play officially licensed retro games with friends online, will launch on Kickstarter on April 14th.
At the crossroads of online multiplayer gaming and video chatting, Piepacker is a free and legal platform which provides instant access to officially licensed retro video games from a web browser, without any download.
Through its Kickstarter campaign, Piepacker is offering early access to its platform along with an exclusive piece of technology developed for nostalgic retro gaming: the PieReader. This new retro gaming dock is equipped with adapters to import one's own retro game cartridges to the multiplayer world of Piepacker and play with their friends online, with only one cartridge.
Piepacker's video chat features video game themed 3D masks and filters as a fun way for players to (re)discover the greatest titles of retro gaming among friends as well as new indie and exclusive games.
Currently, most retro video games are acquired on pirate websites with direct downloads. Piepacker brings to the world of video games what Spotify brought to the world of music, making retro gaming accessible to all, for free and legally, while guaranteeing a high quality of service.
"While many are limiting their face-to-face interactions due to the ongoing pandemic, connecting with others and remaining socially active has never been more important," said Benjamin Devienne, co-founder of Piepacker. "Piepacker provides a fun way to interact. This innovation is at the forefront of transgenerational pop-culture; mixing gaming, video chat, 3D filters and masks in augmented reality. It's exciting for everyone."
Under development since March 2020, Piepacker opened its beta version to the public in late December. Before the beta closed, 100,000 people had taken the opportunity to try out the platform and contribute to its development.
Piepacker provides access to games that have been featured on a variety of platforms: arcade machines, NES, Super NES, Saturn, Mega Drive, NeoGeo and PlayStation with more to come. Piepacker has partnerships with publishers Codemaster, Team 17 and Interplay and indies like Bitmap Bureau or Morphcat. The catalog continues to grow with plans to add modern indie as well as original exclusive cards and board games.
For German indie studio Morphcat, Piepacker is currently "the easiest way to enjoy multiplayer games with your friends over the internet". British studio Bitmap Bureau is "extremely impressed with the range of features that Pie Packer has to offer, most noticeably the ability to play Xeno Crisis with another player remotely, and believe that retro gamers around the globe will be especially interested in this new technology, with many classic games making their way to the platform."
There are currently over 60 games including 2 cloud gaming exclusives available for free on Piepacker. Among the available titles are the iconic Worms World Party, Earthworm Jim 1 & 2, Xeno Crisis and Micro Mages.
The Kickstarter campaign will close May 7, 2021 and the platform itself will be accessible to the public later this year.
About Piepacker
Piepacker was created by two friends, Benjamin Devienne and Jules Testard, two Frenchmen who expatriated long ago and share a decade long friendship. Benjamin, the face of Piepacker, has an outstanding track record. Before graduating, he was at the head of an academic research project that led him to participate in a major TEDx in Canada, along with many celebrities. Benjamin was also a distinguished guest lecturer in several universities, including the Massachusetts Institute of Technologies (MIT). He founded the data science department of Gameloft, a French mobile game giant, and became a leader in that field. Facebook convinced him to step outside the video game industry to manage key teams of their data science department as Head of Analytics. The giant of video game streaming, Twitch, a company belonging to Amazon, was next in recruiting him as Head of Research Strategy on machine learning oriented projects. Benjamin was not yet 30 years old.
When starting Piepacker, the pair recruited some of the world's most talented experts in the field. They assembled a team of former employees of Google, Facebook, Microsoft, Apple, EA, Blizzard-Activision and Twitter.
After just a few weeks of development, Piepacker got noticed and backed by Y Combinator, the startup accelerator that has engineered the birth of Airbnb, Twitch, Dropbox and even Reddit. Thanks to their key support, Piepacker's development has been accelerated and also helped the two founders gather an elite group of advisors from the industry.
On the list of video game veterans advising them, one finds Kenji Matsubara, former president of SEGA, Justin Waldron and Tom Bollich, co-founders of mobile gaming gem Zynga, Kun Gao, co-founder of Crunchyroll, the platform dedicated to Japanese anime and Jeffrey Rosen, co-founder of video game distributor Humble Bundle.