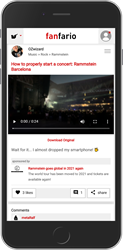 Direct booking of advertising links and banners from fans and enthusiats - well done!
MOUNTAIN VIEW, Calif. (PRWEB) September 11, 2020
These days, we're all familiar with "influencers," social media stars with millions of followers who travel the world, show off glossy products, and post photos with spectacular filters.
But for every popular influencer, there are thousands of "micro-influencers," creators with a few hundred or even thousands of followers. And here's a secret: oftentimes these micro-influencers post higher quality and more authentic content than their "famous" counterparts! With highly-engaged and loyal followers, they are eager to grow their platform by posting niche topics as they develop their personal brand.
So why does this matter? Up until today there are little possiblities online, where those niche publishers and experts can be directly sponsored by advertisers.
Fanfario offers a platform for these micro-influencers (or anyone who considers themselves a die-hard brand fan) to post images, videos and clever copy around their favorite brands, labels and businesses. Think of it like an interactive fan-based magazine.
So what does the platform do? Fanfario allows "micro influencers" to find "micro sponsors" for their posts! For example, if a micro-influencer is interested in showing their love for Nike, Puma or Adidas, they can offer direct payments for ads that list under their post - all supported through Stripe.
For commercial advertisers, the platform shows posts on a variety of different topics (ex. Fashion) with a "sponsor this" button. Businesses can then create or upload a simple banner ad to run via a micro-influencer for 3 months or more. The best part? It's all run on a low fixed price - no pesky pay per click ads!
After an advertiser locks in their ad it's immediately activated and the publisher will get paid instantly and directly to his or her personal account.
About:
Fanfario is the brainchild of online marketing veteran Ralf Schwoebel, a German-American entrepreneur who has piloted dozens of e-commerce solutions throughout the past 25 years including Tradebit.com, VShop.com, Vicoland.com, and more.