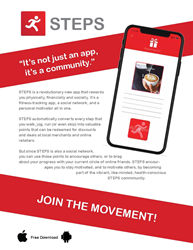 "Instead of likes, followers, retweets.. Your social presence is measured by your physical activity using a socially strong leaderboard between you and your friends. The more you move, the more popular you are." -Omar Alkhateeb, CEO
DAVIS, Calif. (PRWEB) November 29, 2018
STEPS is a new iOS and Android app that rewards users physically, financially and socially. STEPS is a fitness-tracking app, a community, and a personal motivator all-in-one.
The app, which will be available as a free download, allows users to keep track of how many steps they walk, jog, run (or even skip). Using the accelerometer sensor along with GPS technology embedded in all smartphones, STEPS automatically converts every step users take into STEPS points that are then stored in a user's personal account. Those STEPS points can be exchanged for discounts and deals at participating local merchants, as well as a growing host of online retail partners.
But getting deals while getting fit is just the start. STEPS also allows users to connect with their existing friends on other social networks - like Facebook and Instagram - while making new connections with other fitness-conscious STEPS users. STEPS users can do all the things they do on other networks, like posting and messaging. But what sets STEPS apart is that it encourages healthy competition by allowing users to share, compare (and boast about) how many STEPS points they have earned with anyone in the STEPS community.
And those STEPS points give STEPS users more than just bragging rights with their friends. Using the app's "Redeem" tab, STEPS users can view a variety of exclusive offers and discounts from local merchants and online retailers. Whether it's discounts at local juice shops, free shipping on online orders, or a discount on health-insurance premiums, STEPS points help keep STEPS users financially, and physically fit.
The team behind STEPS recognized that traditional 20th century marketing techniques are no longer effective in the 21st century. So they designed STEPS to reach targets with pin-point accuracy. STEPS innovative new platform allows athletic associations, sporting event/festival/concert and marathon organizers, community groups, schools and universities to reach eager and interested consumers, and - more importantly - to form lasting, meaningful and mutually-rewarding relationships with them.
STEPS CEO, Omar Alkhateeb likes to boast that he and his team aren't just building an app, they're "building a community." Venture capital and local & national retailers have already taken notice of the movement the STEPS team is creating on the UC Davis campus, and they are all excited about taking the next step officially launch the STEPS community nationwide.
Instagram @StepsMobile
Twitter @StepsMobileApp
Facebook @stepsmobileapp