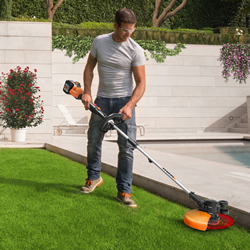 CHARLOTTE, N.C. (PRWEB) June 10, 2019
This Father's Day, let's salute the versatile dad by giving him the tools to make life easier. Why not a new WORX® 40V Trimmer/Edger for lawn maintenance or WORX 20V, 5-in-1 Sandeck Multi-Sander, an innovative solution for sanding and refinishing, or WORX Pegasus Folding Worktable and Sawhorse for staging DIY projects.
A cotton shirt, a leather wallet or reversible belt all make great gifts for dad, but this year consider tool solutions to make dad more productive. Innovative tools are time and problem saving gifts that provide continuous use long after the celebration is over.
The new WORX 40V Power Share Trimmer/Edger is loaded with features, including two, 20V, 2.0 Ah batteries, variable-speed trigger, push button conversion from trimming to wheeled edger, and exclusive Command Feed™ line advance system.
WORX developed Command Feed that advances trimmer line instantly. No more bump feed or waiting for line to advance before cutting. With Command Feed, the user electronically controls when to feed more line by a pushbutton activator.
The 40V Trimmer/Edger has a gas-like variable speed control, which allows users to maximize run time by varying the trimmer's speed based on the task. The trimmer also uses a snap-in spool with 20 ft. of professional, .080 diameter spiral line. The trimmer has a 13 in. cutting swath.
Unlike ordinary trimmers, the 40V trimmer's shaft ratchets from 0 to 90°. This feature allows the user to trim in hard-to-reach areas such as beneath decks, shrubs and other obstructed areas.
The 2-in-1, 8.6 lb. trimmer/edger is a powerful grass trimmer and a precision edger. Its pushbutton twist-and-edge feature easily converts the trimmer into a wheeled, walk-behind edger for edging driveways, sidewalks, walkways and patios.
The WORX 40V, 2x20 batteries are compatible with more than 25 WORX 20V lawn and garden and DIY tools and are part of the WORX Power Share Program. The trimmer/edger is backed by the WORX three-year limited warranty.
The WORX 40V Power Share Trimmer/Edger (WG184, $149.99) includes two, 20V 2.0 Ah MAX Lithium batteries with fuel gauge, one 60-minute dual-port charger, and one spool of line. It's available at http://www.worx.com and Amazon.
The new WORX 20V Power Share 5-in-1 Sandeck™ Multi-Sander combines three popular portable sanders into one, including a 5 in. random orbit sander, ¼ sheet finishing sander, detail sander, detail finger and detail contour attachments. What makes this Multi-Sander unique is its exclusive power transmission design with Mode Max Technology.
Mode Max Technology's power transfer is specific to the sanding task at hand. Each pad has a unique interface designed to maximize efficiency, resulting in zero application compromise. Typical multi-sanders perform well in a given mode, but lose performance in other modes. When the 5 in. random orbit sanding pad is attached, the sanding action makes small ellipses where no two orbits are the same during rotation, leaving a smooth, swirl-free finish.
When switching to a ¼ sheet finishing sanding pad, the Multi-Sander ranges from 4000 to 10000 orbits per minute (opm, no-load) for aggressive sanding (based on grit selection) to laying down a fine, smooth finish prior to staining or painting. This sander is preferred when working with larger workpieces.
Sandeck's detail sander includes a detail finger attachment and detail contour attachment. The detail sander and sanding attachments are good for getting into those hard-to-reach areas, such as corners in drawers and cabinets, between spindles on stairways and other confined areas.
The Multi-Sander has five variable-speed settings. Changing sanding pads from one attachment to the other is quick and easy. Sandeck's innovative clamping system employs Hyperlock®, which exerts one ton of clamping pressure to prevent sanding pad slippage.
Sawdust is funneled into a dust bag for a clean working environment. A vac adaptor is included to connect to a shop vacuum.
The Sandeck Multi Sander is powered by a 20V MAX Lithium 2.0 Ah battery. The sander weighs 4.4 lbs. (with battery) and is covered by the WORX three-year warranty
The 5-in-1 Sandeck Multi-Sander includes a 20V MAX Lithium 2.0 Ah battery; 20V, 5-hr. charger, dust bag, 5 in random orbit and ¼ sheet finishing and detail sander attachment. In addition, detail finger and detail contour attachments also are provided. Fifteen sheets of assorted sandpaper also are included, as well as a storage bag.
The WORX 20V Power Share 5-in-1 Sandeck Multi Sander (WX820L, $119.99) is available at worx.com and online retailers including Amazon. A tool-only version without the battery and charger (WX820.9, $89.99) also is available.
WORX PegasusTM is a space-saving worktable that converts into a sawhorse. It quickly sets up on a basement or garage floor, driveway, patio or worksite.
Pegasus has a 31 x 25 in. tabletop that supports up to 300 lbs.
BuiIt-in aluminum channels house two quick-clamps (provided) to hold wood for cutting, sanding, gluing or finishing. Also, there are slots for four clamp dogs (provided) for securing circular or irregular-shaped work pieces. A lower storage shelf stages tools and materials, and includes a place to attach a power strip. Pegasus also interlocks with another Pegasus tabletop (optional) from the side or back to provide an expanded work surface.
To convert Pegasus to a sawhorse that supports up to 1,000 lbs., the tabletop's extension wings fold down and lay flat on both sides. Notches at both ends of each sawhorse hold 2x4s for elevating 4x8 sheet goods for clamping. This arrangement supports crosscuts and rip-cuts without cutting into the sawhorse.
The WORX Pegasus Folding Worktable and Sawhorse (WX051, $119.99) is available at worx.com and online at retailers, including Lowe's, Home Depot and Amazon. The worktable is backed by the WORX three-year warranty.
Reach out to WORX social media links, including Facebook: https://www.facebook.com/worxus?ref=hl; Twitter: https://twitter.com/WORXTools; Pinterest: http://pinterest.com/worxtools and Instagram: @WORXTools