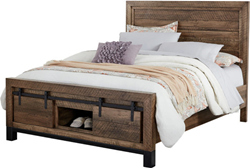 With its rustic, barndoor texture wood and other features the Sonoma Bed gives our clients another unique bed option to chose from.
Shipshewana, Indiana (PRWEB) January 24, 2020
Brandenberry Amish Furniture of Shipshewana, Indiana, brings the flavor of a traditional American farmhouse to homes across America, with the new Sonoma Bed.
The sliding door footboard and its accompanying metal base constitute an optional feature of the rustic Sonoma Bed. The sliding doors open to reveal a handy storage cubby that's ideal for shoes, clothes or other items.
"With its rustic, barndoor texture wood and other features the Sonoma Bed gives our clients another unique bed option to chose from" says Floyd Eash of Brandenberry Amish Furniture .
For its part, the bed is built from brown maple wood with a vintage barnwood texture finish and a Rockwood Brown, low sheen finish. These features give the bed its rustic look. Yet, a close look at the bed reveals that below the rustic façade, the bed is superbly constructed – with the most detailed fit and finish. The mitered joints in the headboard and footboard are cases in point.
The Sonoma Bed is available in king, queen and full sizes. So homeowners are free to choose the size that best meets their needs and desires. Also, other versions of the Sonoma Bed are available. They include the Sonoma Storage Rail Bed and the Sonoma Oak Bed. Alternately, customers can choose the Sonoma Bedroom Collection, which incudes the bed, dresser, chest and nightstand.
As with other pieces of furniture from Brandeneberry, the Sonoma Bed is custom-built by Amish cabinetmakers. In addition, the Amish builders use regional hardwoods to provide sturdy, durable and heirloom quality beds and other furniture products.
The Sonoma Bed can be ordered online or by visiting Brandenberry' Amish Furniture's store in Shipshewana, Indiana. Shoppers looking for a bed have a plethora of custom choices and options to select from when purchasing the Sonoma Bed. Brandenberry craftsmen will build a unique product for each Brandenberry client.
Brandenberry Amish Furniture is located at 1045 N. State Road 5 in Shipshewana, at the intersection of State Road 5 and US 20, near the Indiana Toll Road. The store is open Monday through Saturday from 9 a.m. to 5 p.m. and by appointment.
About Brandenberry Amish Furniture:
Brandenberry Furniture opened its doors in 2008. The Brandenberry Furniture concept allows customers to design the furniture of their dreams…to explore the rich woods and stains that only nature can offer. Nothing matches the feel, the smell and the weight of hickory, oak, cherry, maple…real woods that come to life in an Amish handcrafted piece. They are meant to last a lifetime and beyond.
Whether a customer's favorite style is Mission, Traditional, Modern or something in between, if Brandenberry Furniture doesn't carry it, their craftsmen will build it to specification.
Brandenberry Furniture offers everything from bedroom and dining collections to home accessories, patio and exclusive furniture pieces. Browse our easy-to-use website with detailed photographs and information, and you'll find furniture categorized by room (including family room, dining room, bedroom, office, children's) as well as by wood species (including oak, hickory, cherry, elm, maple, pine and cedar) and style.