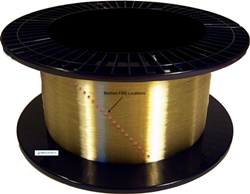 New Purchase Orders for Fiber Bragg Grating Sensors that are to be manufactured at Technica's new facility in Atlanta have begun to be processed on August 15, 2020.
ATLANTA (PRWEB) September 04, 2020
Technica is pleased to announce its newest Fiber Bragg Gratings (FBG) Manufacturing Facility addition to manage company growth. The new US based facility is also home to Technica's FBG Advanced Technologies Center for FBG sensors inscribed into metal coated fibers. The new operation, is located in Atlanta, USA.
Equipped with a state-of-the-art femtosecond specialty laser station, nano-scale 3D positioning and micro-machining equipment, advanced proprietary fiber processing technologies, and ultimate precision and repeatability optical measurement technologies, Technica's experienced engineering and manufacturing team in Atlanta is focused on worldwide customers that have special and unique specification requirements for FBG sensors.
"Demand for specialty Fiber Bragg Grating (FBG) sensors continues to grow as optical sensing applications expand their proliferation in energy, security, transportation, civil engineering, medical, industrial, and other fields. Immune to electro-magnetic interference (EMI), small, light, multiplexable, and highly reliable, our new generation of FBG sensors, FBG arrays, and FBG cables are an increasingly valuable tool for monitoring and controlling industrial and commercial processes, equipment and infrastructure. We are excited to significantly expand the envelope of available fiberoptic sensors' technical specifications through our closely coordinated operations in USA, Sweden, Switzerland, China, and Singapore," stated Andrei Csipkes, President and CEO of Technica.
In addition to relying on Technica for Fiber Bragg Grating products currently provided by existing operations, customers whose applications require high-temperature FBG sensors, through-the-coating written FBGs or FBG arrays, specialized FBGs used for their evanescent properties, or other new and challenging FBG specifications, are encouraged to contact Technica about the company's significantly expanding range of FBG capabilities via its state-of-the-art new operation in Atlanta. More information about Technica's worldwide operations can be found here.
New Purchase Orders for Fiber Bragg Grating Sensors from Technica's new facility in Atlanta have begun to be processed on August 15, 2020.
Technica's team can be contacted at http://www.technicasa.com and info(at)technicasa(dot)com
Technica is a leading developer, manufacturer, and global provider of premium quality Fiber Bragg Gratings, FBG Sensors, FBG Arrays, and Packaged FBG Sensors in acrylate, polyimide, aluminum, copper, and gold coated fibers. The company also proudly licenses and produces individual OEM custom packaged optical sensors. Technica is headquartered in Atlanta, USA.