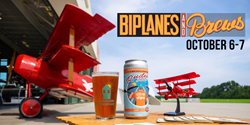 VIRGINIA BEACH, Va. (PRWEB) August 29, 2018
The Military Aviation Museum's Biplanes and Brews World War One Air Show kicks off Saturday, Oct. 6-7, in Virginia Beach, Va., transporting guests back to the days of the War to End All Wars for a weekend of aerial displays from colorful World War One aircraft, live performances from 1920s era entertainers, elaborate reenactor encampments, and, of course…craft brews.
This year marks a new format for the Museum's fall show, combining the aerial showcase that patrons of the previous Biplanes and Triplanes show look forward to each year with a selection of Virginia breweries that will be offering samplings throughout the weekend. Breweries that will be on hand include Pleasure House Brewing, Reaver Beach Brewing Company, Blue Mountain Brewery, Stone Brewing, and Reason Beer. Pleasure House Brewing will be creating a limited edition beer, honoring one of the many heroes of World War I, that will be available at the event. More information on this year's breweries can be found at http://militaryaviationmuseum.org/airshows/biplanes-and-brews/beer.
"The early days of aviation have a fascinating history, and our mission is to connect new audiences with this history through education and sometimes, more creative means," said Jarod Hoogland, Director of the Military Aviation Museum. "Beer is one of those things that transcends time, and we're proud that so many local Virginia Breweries have stepped up to help us share living aviation history through flying and craft brewing."
Beginning 9 a.m. Saturday and Sunday, guests are invited to wander through reenactor encampments, check out the military and aviation memorabilia, and view flights featuring the Military Aviation Museum's collection of World War One aircraft. 1920s-themed entertainers will take to the Museum's stage throughout the weekend. While at the show, delicious cuisine from local food trucks will be available for purchase.
For those that want additional fun, the Military Aviation Museum will offer airplane rides over the incredible Virginia Beach landscape in two of their open-cockpit planes. Both their 1941 Boeing Stearman, which accommodates one passenger, and their Waco YMF-5, which fits two, will be available for booking. To schedule your 15 minute flight, visit http://www.militaryaviationmuseum.org/RideWithUs.html
Free on-site parking is available for this event. Tickets are available online at an early-bird rate through September 30. Tickets with beer tastings are available for $43, and includes a commemorative tasting glass and twelve (12) 4 oz. pourings. For individuals that prefer not to partake in the beer tastings, tickets are $23 for an adult single-day admission or $40 for an adult weekend admission. Youth admission tickets at the early-bird rate are available for $10 for a single day admission and $18 for the weekend. After September 30, tickets will be sold online and at the door at regular rates. To purchase tickets, visit http://www.BiplanesandBrews.com.
For more information about the Biplanes & Triplanes Air Show, call the Military Aviation Museum at 757- 721-7767 or go online to http://www.BiplanesandBrews.com.
About the Military Aviation Museum:
A 501 (c)(3) not-for-profit organization, the Military Aviation Museum is home to one of the world's largest collections of airworthy military aircraft from the first 50-years of flight. Truly a living museum, its aircraft are in restoration at facilities around the world. Besides the main Museum the Virginia Beach complex features additional exhibition spaces, including a mid-1930s Luftwaffe hangar, originally from Cottbus, Germany, which now serves to house the Museum's collection of WWII-vintage German aircraft. Additional structures include the WWI Hangar, and the original radio control tower from RAF Goxhill built in England in 1942. Visit http://www.militaryaviationmuseum.org for more information or call 757-721-7767.